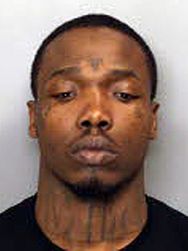 A convicted felon who goes by two different names has been charged with the shooting death of a rapper, according to Cobb County police.
Curley Dean Holden allegedly shot and killed Justin Mitchell, also known as rapper "Yung Teddy," on Jan. 2 in Mitchell's home in Austell as two women watched, according to an arrest warrant.
"The accused pointed the handgun in the direction of Mr. Mitchell and fired several times," the warrant states.
Holden forced his way into the home, held a gun to one woman's neck and pointed the weapon at the other woman before killing Mitchell shortly after 10 p.m., according to police. Hours before his death, Mitchell, 23, posted on Twitter that he had received death threats.
Holden, 23, who also goes by the name Willie Danyel Hunt, was on the run for nearly three weeks before he allegedly threatened to kill someone at a barbecue, according to a separate arrest warrant.
"I want to break your jaw and I'll be happy," Holden allegedly said as he gripped a handgun in his waistband, the warrant states.
Holden was arrested Jan. 23 and charged with terroristic threats, Cobb County jail records show.
While still jailed Friday, Holden was charged with murder and three counts of aggravated assault in Mitchell's death. He remained in jail Tuesday morning, held without bond, according to jail records.
Holden's two most recent arrest warrants list an Austell address, but Cobb jail records show him with a Los Angeles address. The warrants were taken under the name Curley Dean Holden, but he was booked into the Cobb jail as Willie Hunt.
Holden has been in prison twice and was released in August after serving 18 months following a conviction on drug charges and making false statements, according to the Georgia Department of Corrections. He was also incarcerated for about seven months beginning in December 2009 for a separate drug conviction, records show.
Earlier this month, a Cobb County woman was arrested for allegedly sending death threats to Mitchell, according to Cobb police. Yachari Kivana Miller allegedly sent messages to Mitchell saying, "You a dead man walking" and "This your year to die" 24 hours before he was killed, according to her arrest warrant.
Miller spent 15 days in jail before being released Jan. 29 after posting $4,620 bond, jail records show.
By Alexis Stevens