MomoCon and TAG (Technology Association of Georgia) will present a unique career expo that is free to the public.
MomoCon Career Expo 2016 will take place tomorrow, May 26th, from 10AM to 1PM at the Omni Hotel Atlanta in the International Ballroom.
This event will feature employers and educational institutions, give job seekers a chance to have their portfolio reviewed and allow job seekers to explore potential careers and internships within the gaming, animation, and entertainment business!
Patrons of the career expo should bring their resumes, portfolios, and dress business professional for the event. Also, a MomoCon membership is not required to attend the event. Attendees must register at the TAG site in order to attend the career expo.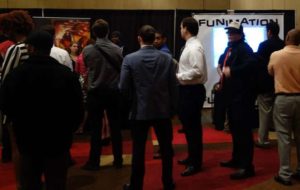 The 2014 Expo, the first ever hosted by Momocon, brought tremendous success to many job seekers. Some of the companies that attended were TripWire Interactive, Hi-Rez Studios and Funimation.
TAG, founded in 1999, has emerged as a prominent membership organization and drives to boost the economic development within Georgia.
With 30,000 members and counting, TAG's mission is to educate, promote, influence and unite Georgia's technology community to foster an innovative and connected marketplace that stimulates and enhances Georgia's tech-based economy. For more on how to join TAG, visit their website for membership information.
As the home to Georgia Tech, this expo is sure to be packed with an abundance of eager job seekers looking to enter the job force.
If patrons are interested in attending MomoCon,  the passes available are $25 for May 26, $40 for May 27, $45 for May 28, $25 for May 29 or $70 for all four days.