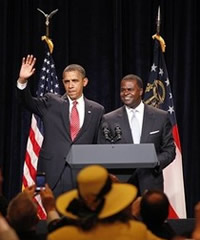 Kasim Reed will have plenty of supporters as he seeks a second term as Mayor of Atlanta. On Tuesday, one of his biggest supporters made it public.
President Barack Obama officially endorsed Reed for a second term, praising Reed's fiscal stewardship of the city. The president mentioned Reed's investment in young people, his commitment to public safety and the efforts to improve infrastructure and create well-paying jobs and business opportunities for not just the city of Atlanta but for all of Georgia as other reasons for his endorsement.
"For nearly four years, Mayor Reed has worked tirelessly to ensure that Atlanta remains one of our nation's leading cities and a competitive center of commerce and culture in the Southeast," President Obama said in a statement. "He has restored the city's fiscal condition, reduced crime and implemented after-school programming that serves hundreds of children per week in some of the city's most challenged neighborhoods. He has earned a second term. I look forward to partnering with him on issues of importance not only to the city of Atlanta, but also our great country."
Both Reed and President Obama have worked together several times since Reed became mayor back in 2009. In a statement, Mayor Reed said he was "deeply honored" by the president's endorsement.
"I wake up every day humbled to serve as Mayor of the City of Atlanta. This is my dream job, and if I am fortunate enough to earn the trust of the people for a second term on November 5th, I will work hard every day to make our city better. I share President Obama's vision for a city and nation in which we can improve the lives of working-class families. I will focus on fixing the city's infrastructure needs, creating more jobs, addressing the challenges faced by our youth and keeping residents and visitors safe. If elected, I am eager to continue working with the President and his Administration on a progressive urban agenda."
Via 11 Alive