(via CBS46) There is new information about the name of a controversial road in metro Atlanta that residents think should be changed because they say it's racist.
The road in question is "Jim Crow Road" in Flowery Branch, which is about 45 miles northeast of Atlanta, but one man wants to set the record straight and hopes the true story will be enough to change hearts and minds.
A quarter of a century after his death, the man buried in a simple grave with his wife is stirring up a controversy, one that he himself never would have imagined.
"This is a picture of him and his wife Edith," said Randy Crow, as he showed CBS46 the grave showing the name "Crow."
"He was a humble man, by far not a rich man," Randy Crow said. "Plain spoken, kind man and would help everybody. He was very influential in the county."
The name on the cemetery marker is "Glenn C. Crow." He also was called "G.C." on occasion, but an aunt started calling him "Jimmy" when he was little and that nickname stuck.
"Jim Crow was my grandfather," Randy Crow said.
Not the "Jim Crow," but there's no way to explain that to all the drivers who do a double take as they pass the road sign and can't believe their eyes.
The name "Jim Crow" is infamous as a stereotype. It actually originated in minstrel shows, but came to refer to the entire system of laws used to oppress African Americans and maintain segregation throughout the south.
"Quite honestly, I don't think my grandfather ever gave much thought to the Jim Crow laws," Randy Crow said. "The man himself never had a racial bone in his body."
"To call him anything other than Jim would have been an insult to him," Randy Crow added. "Everybody that he would talk to, they could call him Mr. Crow and he would say, 'No, just call me Jim. All my friends call me Jim.'"
Unfortunately, most people don't know the real story, or don't care. In this day and age, many see this as offensive, if not downright intimidating.
"My mother was so upset that I was moving on a street named Jim Crow," said Addrienne Session. That was a decade ago and Session loves her neighborhood. She has never had a single problem with neighbors and that includes members of the Crow family.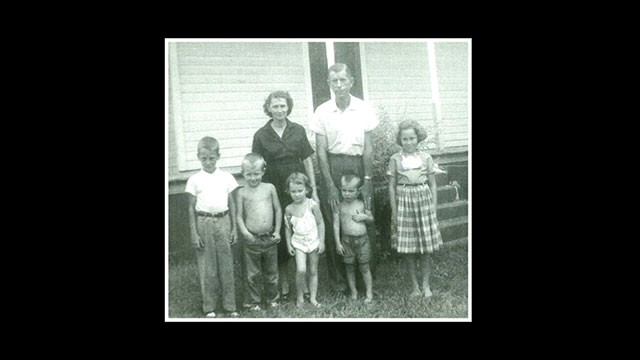 "Separate the fact between the Jim Crow laws and my grandfather Jim Crow. They were totally different," Randy Crow said.
But an effort to change the name of Jim Crow Road is afoot and those who knew and loved him are upset.
"We made a hard living here," Randy Crow said.
When Randy Crow was growing up, the road in question was nothing but a dirt road, "and as we rode the school bus to school, the bus would slide off the road because it was so muddy and all the boys would have to get out and push the bus out of the ditch," Randy Crow said.
Jim Crow, who bought most of the property in the area, used his influence to get the road paved and commissioners later named it after him.
"Everybody knew him at the courthouse," Randy Crow said. "If anybody wanted to run for office, the sheriff, commissioner…they came to him to get his approval."
"I've been in the courthouse many a time with him and they [were] colored, they [were] white, it was no difference to them," Randy Crow added. "[He] shook their hands, called them by their first name. Everybody was equal to Jim Crow."
When CBS46 originally reported about the road, members of the Crow family politely declined to be interviewed. They wanted to let sleeping dogs lie. But now that things have gotten stirred up anyway, Randy Crow decided to speak up.
"If you hadn't lived here all your life, you wouldn't know the whole history," Randy Crow said. "You'd hear what's been handed down to you and so forth, and what you have heard from some of the other people that live on the road, and that's one of the reasons I'm here, to try to get everybody to understand where they live."
"They mistake it for the other Jim Crow," Furman Strickland said, who owns the house where Jim Crow once lived and has known his family members for many years. "They're fine people and they're very good neighbors."
Speaking for the family, Randy Crow says he hopes things will calm down, that people will realize his grandfather deserved this small honor.
"The man needs to be left in peace," Randy Crow said. "Just let him rest. He did enough in his lifetime for the people around him, and the town, and the county, and the neighbors and never asked for anything back," Randy Crow said.
So far, the Hall County commission hasn't agreed to consider changing the name of Jim Crow road.