As the resident car guy in my friend circles, when the day finally comes that one of us can ditch our Mom's '97 Honda Pilot for a new car, I'm often the first one they call or Facebook Chat for advice.
"Hey Chris! Heard you know a lot about cars!"
"I want something sporty…"
"… But also practical and safe"
"I don't want to spend more than $300/mo on a lease"
"Cool, but cheap. Mostly cheap."
Armed with their grab-bag of criteria, my inner gears turn and eventually, out pops a recommendation. Audi A4… Subaru Outback… Chevrolet Malibu…
Recently, however, the gears have been turning for less time, and the same recommendation keeps popping out.
Mazda3. 
The term "all-rounder" implies something is good at everything. But the reason it's so easy to recommend the Mazda3 is because this car is great at everything.
First off, the looks. About 30 years ago, car manufacturers decided that if a car cost <$20,000, it had to look like ass. Like the car that nobody would ask to prom. Presumably, they did this to make the more expensive cars in the lineup look more appealing, or because they outsourced the car's exterior design to someone on Fiverr.
Only recently did they repeal the Cheap Cars Must Be Ugly rule, as exhibited by the sleek Hyundai Elantra and confident Toyota Corolla.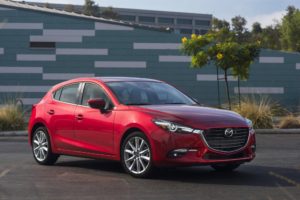 But the Mazda3 is simply one of the best-looking cars on the road at any price point. It took a few generations for Mazda to chisel the adorable but polarizing happy face grill into something modern and aggressive, and to my eye, they nailed it.
Inside you'll find a nice balance of Japanese tech with German pragmatism. Everything is right where you expect it to be, with no excess colors, bells, or whistles. I particularly like the Audi-esque racy, red gauges, and how they've kept the big ol' tachometer smack in the middle of the dashboard. The whole interior and exterior package evokes a single word: confidence. 
So onto performance. Mazdas are known for their stellar handling, but as the Mazda3 appeals to a wider audience each year, has agility taken a backseat?
This was my chief concern as I slung my manual Mazda3 hatchback around the curvy roads of Buckhead. I'm thrilled to say that the handling is as sharp and crisp as ever, which is a good thing since Mazda faces a serious threat from Hyundai and the surprisingly sporty 2017 Elantra. My only disappointment came between shifts; the gearbox felt a hint mushier than previous generations, though I doubt non-enthusiasts will notice.
Pundits lament the lack of a hybrid option. But with 41 MPG, who needs it?
So in the end, we have a sport, comfortable, safe, good-looking, practical, all-in-one happiness-inducing machine that you can lease for less than the cost of your utility bills. Barring a tight backseat, this car is as close to perfect that you can get for <$20k.
If you're looking for a good "I just got a job in a driving city" car, and don't mind sacrificing a hint of comfort for a much more engaging driving experience than you'd get in a Corolla, the Mazda3 is the very first car you should test drive.