I'll admit I had mixed feelings about seeing a Hyundai Elantra roll into my driveway this week. The South Korean automaker's offerings tend to be a bit too conservative and sensible for my taste. The last Hyundais I drove, a '13 Elantra and a '14 Sonata, were quiet, comfortable, and economical, and as thrilling to operate as a toaster. This bugged me, because while competitors like Buick and Kia have sprinkled some excitement into their fleet's DNA over the past few years, Hyundai seemed content producing the automotive world's beige sweater vests.
Now, I knew this would change soon since Hyundai have spawned a luxury division (Genesis) and promised us more sophistication, luxury, and sportiness across the board. I've been eagerly awaiting the opportunity to drive one of the new, fun Hyundais ever since.
So when the 2017 Elantra rolled into my driveway, my only thought was will I be driving the last boring Hyundai? 
No. Because the new Elantra is secretly the first exciting Hyundai; a soft opening to Hyundai's bright future.
Interior
In the p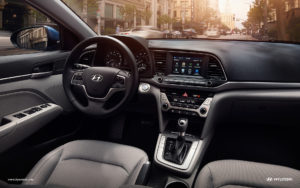 ast, Hyundai interiors have straddled European simplicity and Tokyo high-tech. For 2017 the Koreans have swung hard left, eschewing swooping chromed lines and multiple LCDs in favor of a crisp, clean, Volkswagen-esque look. And it works; it's simple, easy on the eyes, and unostentatious.
Exterior
The outside of the car is similarly restrained with the exception of the front fascia. Fang-like daytime running lights flank a bolder, expanded grill to give the car a more aggressive look. I'm not a fan of when cars look more aggressive than they are, but this car's looks match its prowess perfectly.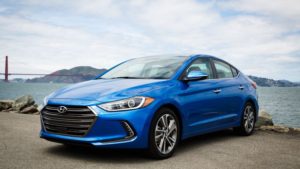 Drive
If cars could talk, Mustangs would ask you to speed up, while Hyundais would remind you to contribute to your 401k. The Elantra, however, confidently mutters "let's do this."
In most cars under $50k, "Sport Mode" usually just means the car will hold shifts longer. But the Elantra also adjusts the weight of the steering to be heavier. That's a sporty feature you'd typically find in a Ferrari or BMW M car; not even dedicated sports cars like the Miata and FR-S have that!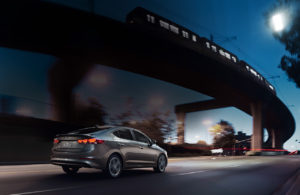 The car also handles well without sacrificing ride quality. Its peppy, naturally-aspirated four-banger provides great low-end torque, so the car hops off the line with ease. I only wish they'd paired the capable dual-clutch transmission to wheel-mounted paddle shifters, but at least we have a shift gate (a manual transmission is also available).
Safety and Technology
Hyundai have always excelled at making safe, reliable, tech-laden cars, and the Elantra is no exception. My Limited-trim tester came with blind spot detectors, rearview camera, and enough airbags to stop a moose. The $1900 Ultimate Package adds lane keep assist and automatic emergency braking, including pedestrian detection. I couldn't find a friend willing to test the latter feature, so I'll have to take Hyundai's word that it works.
Conclusion
All in all, the 2017 Elantra is the well-rounded Hyundai I've been waiting for. It checks all of the important boxes of a bargain midsized sedan while being handsome and confidently sporty. Now that I've seen how much Hyundai can accomplish in a $17k sedan, I can't wait to have the keys to a Genesis.