Atlanta is universally known for it's restaurants. Midtown alone is full of what seems like hundreds of eateries. I recently had the chance to eat lunch at Villains Atlanta. Nestled on its' own corner of Peachtree Street, it is a fairly new restaurant you may or may not have heard about.
Villains, opened in 2013, is a burger and sandwich restaurant that celebrates the nefarious characters in pop culture we've come to love and hate. From the minds behind Grindhouse Burger & HD1, Villains neatly falls in line with its predecessors. A clean, evil laboratory feel with delicious and heroically affordable food.
They recently revamped their menu, which continues the theme of villainous names for each of the items listed, to include new burger and sandwich choices. I had the pleasure of eating the newly added Mr. Blonde burger (Michael Madsen is the quintessential Tarantino villain by the way).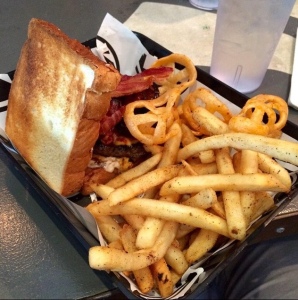 One of three "Big Kahuna Burgers" the Mr. Blonde features two 1/4 pound beef patties, Texas toast, bbq pork belly, bacon, ranch and a pleasantly surprising pimento cheese. To say I was satisfied with the the food would be an understatement. The combination of flavors would overwhelm the most heroic of us all. The Mr. Blonde is by far one the best executed burgers I've tasted in Atlanta in 2014.
Overall, I thoroughly enjoyed my first experience at Villains and would definitely recommend it. The environment and food are a testament to their dedication to the villains concept. From the evil laboratory feel down to the silhouettes of popular bad guys and girls around the restaurant; it is truly a unique place in Atlanta to grab a quick bite.
This slideshow requires JavaScript.
Restaurant Details
903 Peachtree Street
Atlanta, GA 30309
404.347.3335
www.villains-atl.com
Hours
Monday 8:30am-9pm
Tuesday-Thursday 8:30am-10pm
Friday 8:30am-11pm
Saturday 10am-11pm
Sunday 10am-9pm