The weather is getting warmer and festival season is upon us! This weekend we decided to check out Shaky Beats Music Festival and we had an incredible time. You never really know what to expect from an EDM festival but you're definitely guaranteed some pretty good memories. Whether you're a fan of electronic music or not, we'd say that Shaky Beats is a Georgia experience one will never forget.
1. Unity
One of the most amazing things we noticed at Shaky Beats is how united everyone was. It doesn't matter where you come from or what you look like because everyone is there for one reason, the love of music. Hips move from side to side as the music flows through the air, and for just a couple of hours, the rest of the world is nonexistent. You can feel the love and positive energy that everyone is releasing and it is an overwhelming experience that all should endure.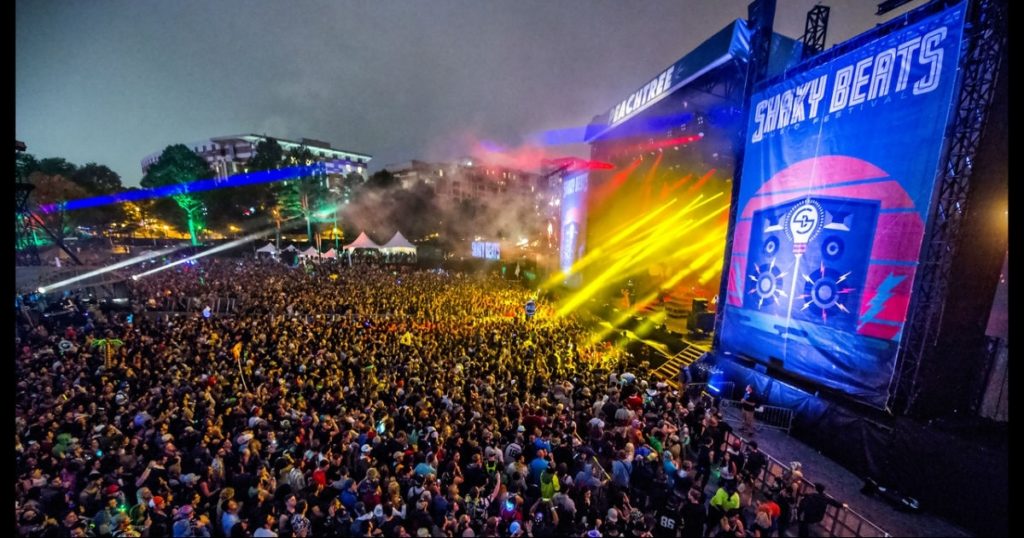 2. New Friendships
When you attend a music festival like Shaky Beats, you make memories that last a lifetime with strangers who will soon become like family. Everyone at Shaky Beats this weekend was so warm and welcoming. Strangers showed us kindness that we'd never seen before and it made us realize how much good there really is in the world. Sometimes when you're standing in a huge crowd, incredibly thirsty, and someone hands you some water, you begin to appreciate the little things in life.




3. Creativity
Halloween is not the only time of the year that you get to dress up in Atlanta, not anymore! We saw so many amazing outfits at Shaky Beats this weekend! Shaky Beats is a judgement-free zone, a safe haven, and an opportunity for people to express themselves in their own way, whether it is in a costume or completely topless with jewels around the body. We saw fairies, unicorns, Pokémon characters, and so much more at Shaky Beats. The creativity that blooms from the music festival scene is what ties it all together and makes you feel like you're in a whole different world.
4. Day Drinking
There's something about day drinking that just makes everything better. Nothing beats lounging out in the sun all day while you play a few drinking games and bond over music. Everything from the pre-game to hopping out of the uber and arriving at the festival plays a huge roll in the overall experience. Find yourself a cool group, and have the time of your life. You won't regret it!
5. Music Appreciation
Shaky Beats has a little bit of everything, for everyone. This weekend's headliners made sure to put on a show that everybody would enjoy. Whether you're jamming to GRiZ and his saxophone or welcoming some of Atlanta's rap music and EDM with Flosstradamus, you're guaranteed an amazing time. Headliners like Kaskade and The Chainsmokers closed out the show on Saturday and Sunday with beautiful visuals and fireworks bursting into the air. The combination of both create an incredible experience that leave you craving and wanting more.




Overall, Shaky Beats is much more than a festival. It is a place where people can leave behind all of their worries and start over. Georgia is well known for its hospitality and Shaky Beats encompasses all that Georgia has to offer.  If you want a little taste of the south, keep an eye out for next year's festival. You won't regret it!