Atlanta's own SidePrize is Here to Raise the Stakes for Your Fantasy League. 
I'm an avid, no fanatical, fantasy football player, and I recently found a way to add a $400 to the pot of my fantasy league. The best part, it was free – no strings attached. When I found out the company literally giving me money, I knew I had to meet the Adam Wexler, fantasy sports entrepreneur & SidePrize founder.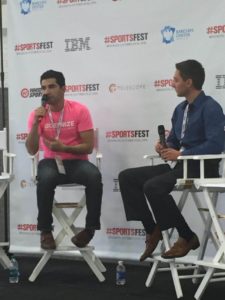 Where did it all start?
We started SidePrize two years ago in Atlanta with a simple premise: The fantasy league commissioner is the most thankless job around. With my co-founder, Tareq Dowla, we set out to make that guy or girl's life a lot easier through technology.
What problem are you solving?
Along the way, we stumbled upon an even bigger problem fantasy leagues face: many fantasy players lose interest over the course of the season as the standings shake out. Through conversations with people like the Head of Fantasy at Yahoo!, we learned there's a massive gap in subsequent logins come Week 5 between players who are 2-2 vs. 1-3.
Thinking back to how I've kept things interesting in my fantasy football leagues, it always comes down to 'putting your money where your mouth is.' Over time, we realized any game of skill where you are participating and can control the outcome is legal in the great majority of the United States.
We proceeded to build a product where you could play anyone in your fantasy league on any given week for money. SidePrize has gone on to win three awards from the Fantasy Sports Trade Association, including 'Rookie of the Year' most recently.
While Daily Fantasy's black eye have made our fundraising efforts more difficult, the season-long fantasy players never left and neither did the stakes in your fantasy league. We've stayed the course with our vision throughout, and we're continuing to grow SidePrize organically from our own backyard in Atlanta.
Heading into this fall, we went back to our original premise and enhanced our free commissioner software to make the pain of collecting money from your friends in your league as painless as possible.
Wait, but how do we get the free money?
If you play fantasy football, we'd love to work directly with your league and/or commissioner. We have integrations with Yahoo!, ESPN, NFL.com & more. If your league uses us for handling league dues in addition to the week-to-week action, we also have a nice promotion going: http://about.sideprize.com/sideprize-wants-add-400-to-your-league/
Any thing you want to say to the GAFollowers community?
As we're growing SidePrize one league at a time out of Atlanta in 2016, don't be surprised if you see some SidePrize buttons show up in your favorite fantasy platforms over the next year or two. Hopefully you can say you were along for the ride with us from the early days!