KANNAPOLIS – The same good food; same good service and same great owners.
That's what owner Conard Haywood wants the people of Kannapolis to know about Field House BBQ, even though it was forced to change its name because of a lawsuit.
Formally Varsity Bar-B-Q & Creamery, Haywood recently changed the name of the restaurant to Field House because he was sued by The Varsity; a long-running chain in Atlanta, Georgia.
"We had that name for 20 years. We've been here since 1998 and everybody in Kannapolis knows us," Haywood said. "It was crazy. They are about five hours away."
Haywood said it all started when the restaurant, located at 1907 S Cannon Blvd., received a letter from The Varsity.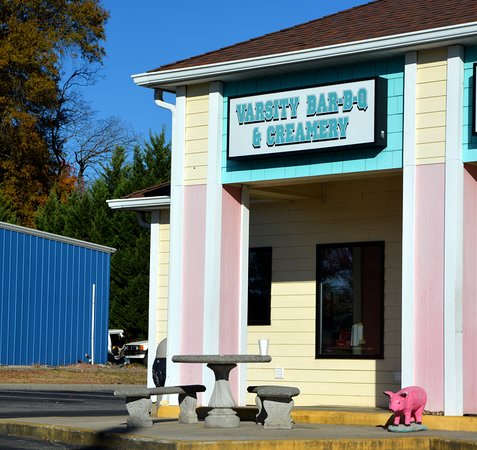 "They sent me a letter and I ignored it the first several times," Haywood said. "Then he sent me a certified letter and I got a lawyer."
The Atlanta restaurant, which serves hamburgers and hot dogs, argued that because Varsity Bar-B-Q & Creamery had the word "varsity" in its name, people were getting the two confused on social media sites like Yelp and Facebook.
Haywood said The Varsity's lawyer provided several examples where people were commenting on how good the food was at the Kannapolis restaurant on the Yelp page for the Atlanta restaurant.
"This went on for about six to seven months and it came down to them telling us that the people of Kannapolis were confused and thought we were The Varsity," Haywood said. "Because they think they own the name Varsity barbecue."
After months of discussion, Haywood's lawyer advised him to give in and change the name of his restaurant instead of spending an outrageous amount of money on the lawsuit.




"The lawyer told me I might as well change the name, because it's going to cost a lot of money to fight them," Haywood said. "It was crazy. We are just a small mom and pops shop in Kannapolis. We aren't infringing on their business."
But the owners changed the name to Field House, another sports reference, and are working to get their customers acclimated to the change. They want to make sure everyone knows it's the same food and the same service.
"We will move on and hopefully my customers will keep coming, and the ones I did lose over this will come back," Haywood said. "A lot of people think when a name changes other things change too. But we have the same good food, same good service and same great owners."