It is about time that Atlanta finally rose up and got to the Super Bowl. Now that we are officially ready for the Falcons to win, it is time to plan our Super Bowl parties. Unfortunately, because this wasn't completely expected you may be feeling a little caught off guard here. So, today I give you a list of everything that you'll need and how you can use things that you may already have in your home to create a Super Bowl party of historic proportions.
Decorations: Sure, you can go out and waste your money on everything Falcons themed or you can make decorations out of things that are sitting in your home now.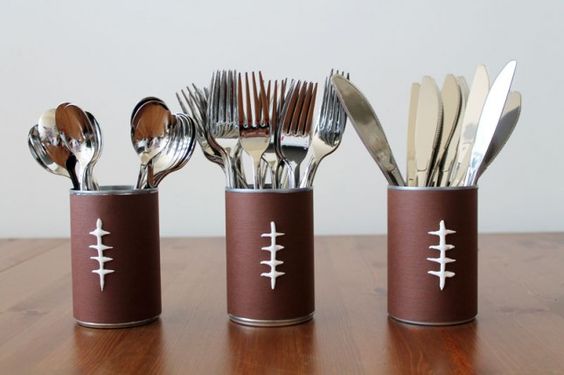 Can Football Holders: It is always more festive to have your napkins and plastic ware in something themed and not just lying on the table. A great way to make a nice holder for these items is to use an empty food can. After taking off the label and washing it, either use brown or white paint or construction paper to make the outside of the can look like a football.
Water Station: Set up a large sign made from paper or poster board that reads "Water Break". Place this right over where ever you have water bottles, sodas, beer, and other drinks.
Game Plan: Using a chalkboard or whiteboard, draw up fake game plans with X's and O's. You can also use other chalkboards to draw up cute or funny football lingo and place them all around your party. This is a great way to take up some space while staying with the theme.
Jersey Garland: Cut out small to medium sized jersey shapes out of red and black construction paper. Then using white paper, cut out the numbers of your favorite Falcons players and glue them onto the jerseys (might I suggest number 11). Then using yarn, string or twine, glue your construction paper jerseys to it to make a festive garland.
Field Table: Using more of the white construction paper, cut out lines and number to resemble the yard markers on a football field. Then use tape to stick them to your countertops or table. A great place to have these is where ever you are having your food stationed.
Food: No game day is complete without food. Here are some easy and delicious ways to satisfy your game day cravings.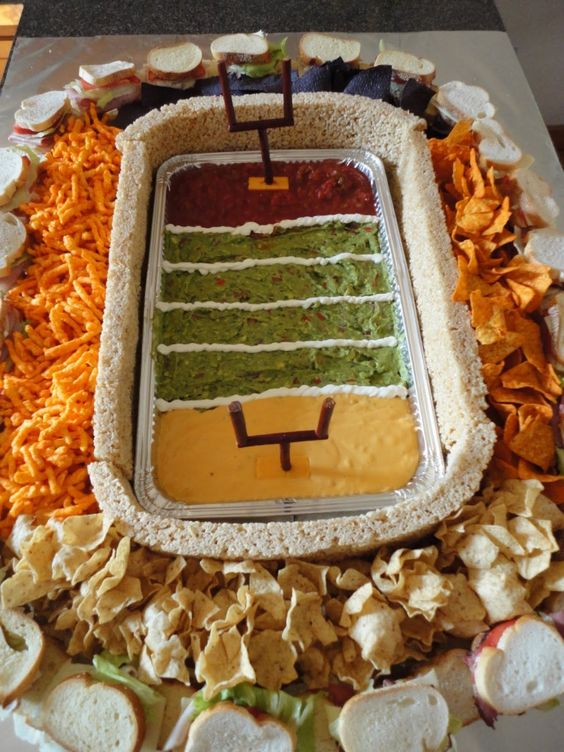 Field Dip: This take on chips and dip is perfectly spot on for the occasion. Instead of having salsa, guac, and cheese in three separate bowls, use a large tinfoil baking pan for them all. Fill one end with Queso, one end with salsa, and the middle with guacamole. Then using sour cream, draw on the yard markers on top of the guac.
Loaded Tater Tots: Finger foods are the item of choice when it comes to the Super Bowl. After cooking a bag of frozen tater tots stick a few onto a skewer. Once you have as many filled skewers as you like, pile on crumbled bacon, cheese dip, and sour cream.
Pizza Rolls: Using crescent rolls, fill them with your choice of sausage, pepperoni, or bacon (or all three) and half of a cheese stick. Then roll them up and bake them.
Concession stand: Now this one seems a bit extra, but rather than having chips and candy just sit in bowls on a table, fill up different brown paper bags with some of your favorite game day snacks. Once you have all the different bags filled up, place them on the table and let your guests decide what bag they want. This can also save a little money on plates you won't have to buy.
Jersey Treats: I don't think many people can look over a Rice Krispy Treat. So instead of making the traditional square ones, mix in red food coloring and cut them into the shape of jerseys. You can either leave them like that or use frosting to write different numbers on the.
Drinks: Quench your thirst.
Beer: Duh.

Gatorade Jell-o Shots: How 'bout drinking like the pros do.
Jack and Coke: This one is a classic, but rather than letting it go to waste in a red cup, use clear plastic cups and paint football stitch marks on them.
Anything Red: Honestly mixing white rum (or another favorite liquor) and fruit punch or other red drink will make for a Falcons-themed cocktail. Put it in a large bowl and let everyone have at it.
Peach Lemonade: Mix Peach juice, lemonade, and sprite. No Liquor, because someone has to be the DD.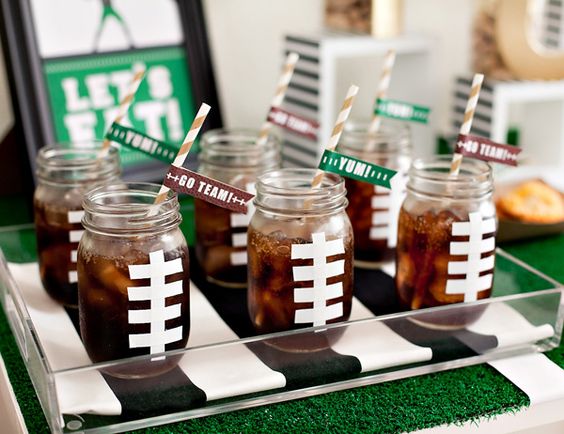 What to Wear: Since Atlanta historically hasn't done too well in the playoffs, not every fan has an arsenal of sports apparel for the big day. While some might opt to rush out and buy some cool new Falcons gears, there are some cheap alternatives to getting your outfit to display some serious Falcon pride. It's all the fun and half the commitment.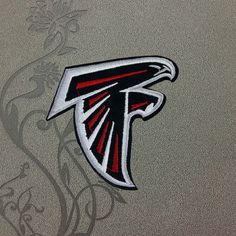 Red and Black: Sometimes being spirited can just mean wearing your team's colors. So, save money and go all out in the red and black you own.
Lipstick (For The Ladies): If you don't own any red, buy a red lipstick to add to any white or black outfit you have.
Iron-on Patches: Go online and purchase cheap patches to stick to any sweatshirt or t-shirt.
Pom-poms: Another way to bring some flair to your game day presence is having pom-poms to cheer on the Falcons. You can find these cheap at Party City or the Dollar Store.
Wash Off Tattoos: Although we aren't necessarily kids anymore, we can't forget our love for temporary tattoos. You can buy some inexpensive ones on Amazon.