Today is the day that some will celebrate and some will call into question.
The curfew placed by Tinseltown is now in effect. Patrons under the age of 17 MUST be accompanied by a parent or legal guardian past 6PM, but only on Friday and Saturday nights.
This decision comes after several incidents involving many teenage patrons, and the incidents seemed to be on a steady incline.
The incident that seemed to be the tipping point was a fight that broke out between two teenage girls back in April, that drew a rather large crowd of onlookers and created chaos. This decision has created tension among some parents and local law enforcement. Some feel the curfew is extreme and ridiculous and think it creates more problems rather than actually solving any.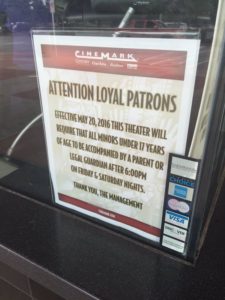 One local parent was informed of the curfew when dropping off his 14-year-old daughter at the theater.
"A lot of parents cannot be here Fridays and Saturdays, and especially since I have a younger son. You know my daughter can see a PG-13 movie, but I am not going to take him into see 'BarberShop'"
However, there are some parents that are siding with the theater and local law enforcement in favor of the new curfew.
"I think that's a great idea. There are too many kids coming out here and doing way too much, not doing anything productive, and going around hurting people does not make any sense at all," said parent Greg Brakers.
Others have spoken out in favor of a later curfew, as they feel 6PM is a ludicrous time for their teenage children to be subjected to. Fayetteville police have commented and stated that they hope the rest of the businesses in the vicinity will start enforcing the curfew as well and that it will stick.
Tinseltown 
134 Pavilion Pkwy
Fayetteville, GA 30214
http://www.cinemark.com/