An Elberton, Georgia veterinarian, Dr. Andy Mathis was about to leave the hospital for the night.
Right at closing time, however, a woman called about a starving dog she found on a county dirt road. Dr. Mathis told her to bring the dog in so he could take a look at her.
The woman arrived at Granite Hills Animal Care with a gray pit bull in horrible condition. This dog was emaciated, anemic, hypothermic, and was suffering from a severe vaginal prolapse. Dr. Mathis wasn't sure if she would make it, so he turned to his fellow animal lovers on Facebook for help and support. "So I had 2 choices," Dr. Mathis wrote on Facebook. "I can put her to sleep. Or try to save her. So I asked the universe … also known as Facebook … and the universe said 'Try.' The universe even named her as they said, 'we hate the thought that any pet gets sent to rainbow bridge or passes away without a name,' so they christened her Graycie Clair. Spelled with a Y for her gray coloring."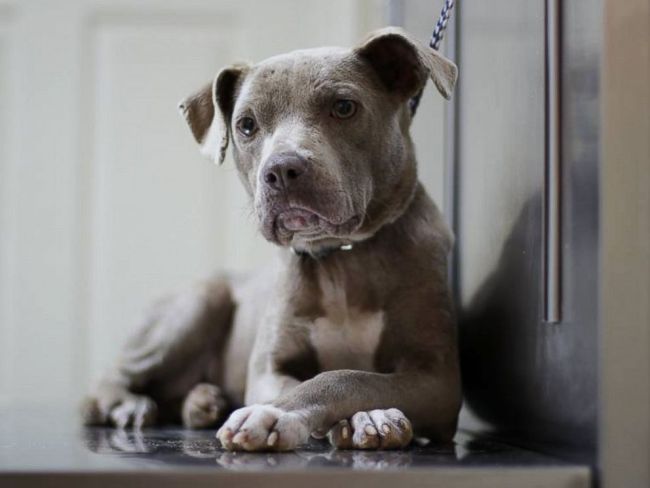 In the touching video below, Dr. Mathis sits down with Graycie inside her kennel in the attempt to encourage her to eat breakfast. By this point, Graycie was already making drastic improvements and beginning to gain weight, but has serious trust issues. Dr. Mathis treats this dog with such kindness and respect, showing her that it's okay to dig in and enjoy her meal. He even takes his own breakfast into the kennel with him, eating out of a metal dog bowl to show her that they're equals.
Wait until you see Graycie react to her savior's incredible gesture. Will she eat her breakfast with him?
via PuppieLovers.org