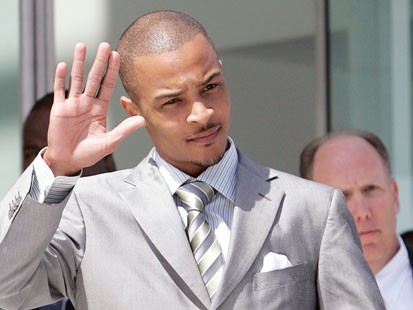 As of late Georgia rapper T.I. has been in a little trouble, he recently was released but rumors got around that he went back to jail the same day he was released, unfortunately this is true but it's not serious.  According to TMZ, the Atlanta rapper didn't inform prison officials what type of transportation he was going to get picked up in and once they saw his tricked out tour bus they threw the rapper back in jail.
(via TMZ.com)
The reason T.I. was hauled back to prison from his halfway house is that he allegedly misled prison officials into thinking he'd take a low-key mode of transportation from the prison to the halfway house — and a tricked out tour bus isn't low-key.

Law enforcement told TMZ- when a prisoner is incarcerated in a low or medium security prison … prison officials can allow the inmate to use a private, unescorted mode of transportation to travel from the prison facility to the halfway house.
Whatever the case is, we know that Georgia wants T.I. to come back in stay out of trouble and make more classic music. A quick suggestion for him, T.I. run when you see the cops next time please.