Top 10 Most Important Players For the Upcoming Atlanta Falcons Football Season
The Atlanta Falcons begin their season September 7th against their archrivals, the New Orleans Saints. The "Dirty Birds" will be looking to erase the memory of an extremely disappointing 2013 season, where the team went 4-12, only a year removed from an NFC Championship Game appearance. Many players will have to step up in order for the Falcons to return to glory, but the following ten players will be the most pivotal in a potential Falcon rebirth.
1. Jake Matthews, Left Tackle, 6'5, 305 lbs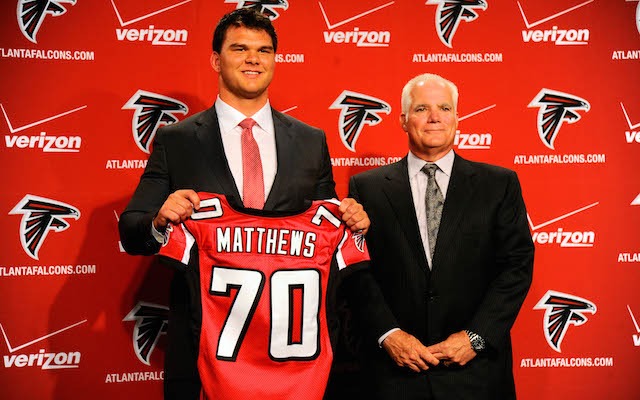 Left tackle is often considered the most difficult position in the NFL, outside of quarterback, and due to an unfortunate preseason injury to Sam Baker, Matthews will be asked to slide over to protect Matt Ryan's blind side. The 1st round pick (6th overall) was billed as the "left tackle of the future", but it's hard to imagine the Falcons front office wanted Matthews thrown into the fire so early.  Matthews will need to deliver quickly, as the Falcons offensive line unit will need to improve from their dreadful 44 sacks allowed last season. Matt Ryan has shown he is one of the best QB's in the NFL, when he has time to throw. Matthews will need to be great in order for the Falcons to turn it around this year.
2. Julio Jones, Wide Receiver, 6'3, 220 lbs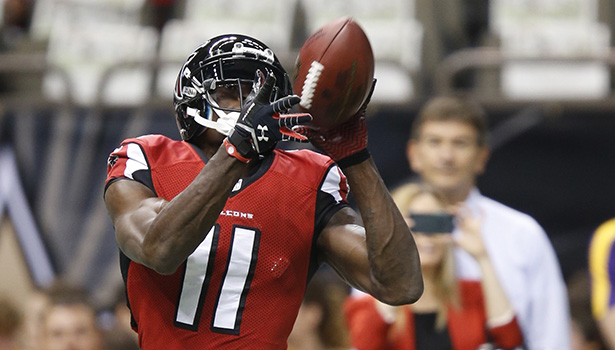 Julio Jones is the best player on this team, and one of the best players in the NFL. #11 has one of the most unique skill sets in the league, combining elite size, speed, athleticism, and route running. Jones was on track to have a career year last year before his season was ended prematurely, when he fractured his foot against the New York Jets in October. After an extensive rehab, Jones will look to find his stride again, hopefully in time for the New Orleans Saints on September 7th. This explosive offense was not the same without Jones last season, as his ability to change games is unmatched by anybody on the roster. A healthy season for Jones will result in a career year, and many wins for the Birds.
3. Osi Umenyiora, Defensive End, 6'3, 255 lbs
Osi Umenyiora was brought in as a replacement for longtime Falcon defensive end, John Abraham, for the 2013 season. Osi was very average for the Falcons last season, and much more will be needed from him this season if the pass rush is to improve. As Umenyiora has aged, his role as an every-down lineman has diminished to more of a pass-rushing specialist, used on passing downs to create pressure. Osi still has some burst, and is capable of a double-digit sack season. The Falcons nonexistent pass rush has been well documented over the past few seasons, and it will be important for Osi to provide pressure, especially on third down.
4. Matt Ryan, Quarterback, 6'4, 217lbs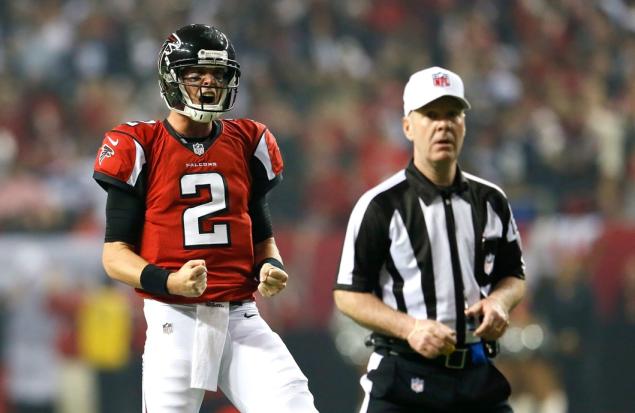 Matt Ryan is coming off his worst statistical season as pro, but many would say that it was his most impressive season to date. Ryan managed to throw for 4500+ yards, 26 touchdowns, and completed 67% of his passes, despite the revolving door at wide receiver due to the injuries of Julio Jones and Roddy White. "Matty Ice" is as accurate as they come, and has shown his ability to carve apart defenses, when he is given the time to do so. The offensive line looks to be improved, which has to make the veteran signal-caller ecstatic. If Ryan can replicate his 2012 season, the offense should be at the top of the NFL in scoring and efficiency.
5. Lamar Holmes, Right Tackle, 6'6, 330 lbs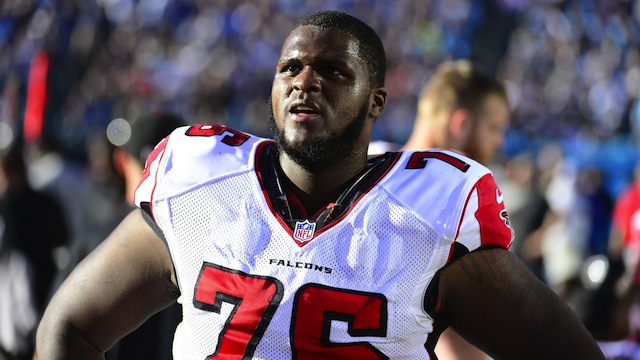 It is a huge detriment to the 2013 Falcons offensive line, that 2 out of their top 5 most important players are offensive lineman. Lamar Holmes was pegged to be the 6th offensive lineman, playing in jumbo sets or in a pinch due to injury. But with the previously mentioned Sam Baker injury, Holmes will be required to start at right tackle for the Falcons this season. The former third round pick has underwhelmed in Atlanta so far, failing to develop into a reliable starting tackle in the NFL. Holmes will need to work well with fellow tackle, Jake Matthews, in order to bookend a Falcons offensive line that needs to improve dramatically.
6. Jacquizz Rodgers, Running Back, 5'6, 188 lbs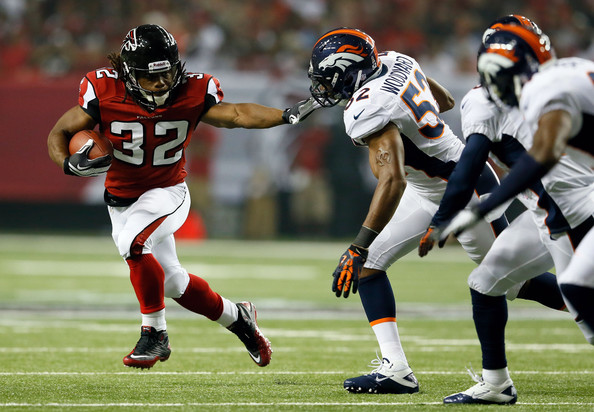 Jaquizz Rodgers has had some great moments for the Falcons since his arrival in 2011, and has turned into a dependable NFL running back. The diminutive back was thrust into a starting role last season due to an injury to Steven Jackson, and was one of the few bright spots on the 2013 edition of the Dirty Birds. Quizz has the ability to impact the running game and the passing game, with his ability to catch and run in space. The Falcons will look to incorporate Rodgers in the screen game, getting him into space, where he is most dangerous. The former Oregon State Beaver has also shown his durability, something that makes him even more important, mainly because of Jackson's unpredictable aging body.
7. Ra'Shede Hageman, Defensive Tackle, 6'6, 318 lbs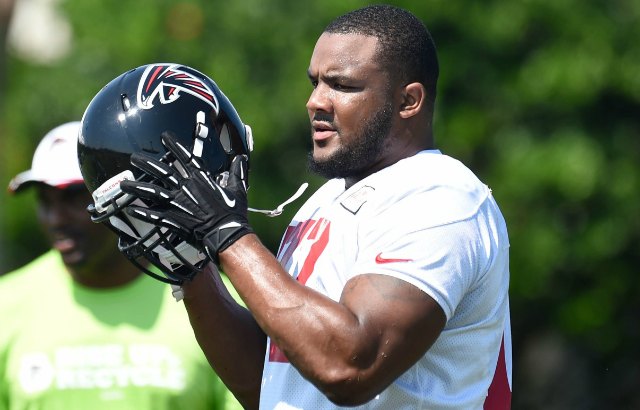 One of the big stars of "Hard Knocks" has been rookie defensive tackle, Ra'Shede Hageman. The rookie from Minnesota is a physical freak, and his ability to create pressure from the interior could be a huge asset for an inconsistent Falcons' defense. As always, a rookie's impact is often hard to measure, but Hageman should be given every opportunity to make an impact on the defensive line. The point of attack was a huge weakness for the Falcons last season. A solid rookie season by Hageman should translate to a much more stout defensive effort in the trenches.
8. Desmond Trufant, Cornerback, 6'0, 190 lbs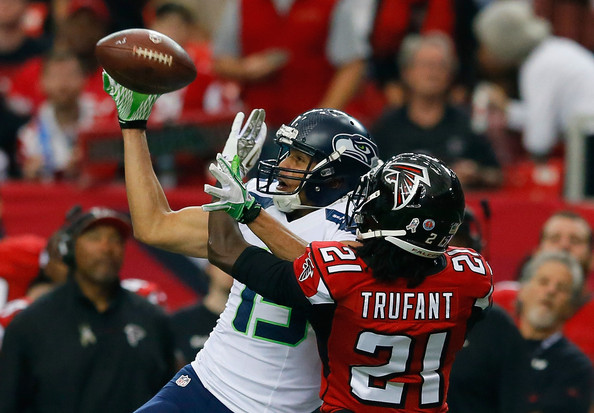 Arguably the highlight of the 4-12 2013 Falcons' season was the emergence of rookie cornerback, Desmond Trufant. A 2013 first round pick, Trufant finished the season as one of the best corners in the NFL, holding his own against some of the best receivers in the league. Trufant will combine with fellow second year player, Robert Alford, to make up one of the best young duos in the NFL. Trufant's importance is crucial to a defense that often has troubles providing consistent pressure.
9. Jon Asamoah, Right Guard, 6'4, 305 lbs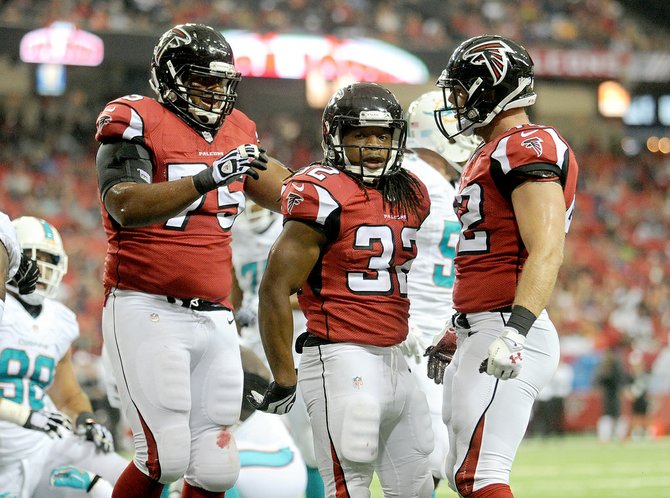 Yes, the third offensive lineman on the list is Jon Asamoah, who joined the Falcons after 4 seasons with the Kansas City Chiefs. Asamoah was brought in to provide a bit of toughness and grit, something the Falcons often lacked last season. Asamoah will be a focal point in the run game, due to his ability to get a nice push. The Falcons struggled mightily in short yardage situations, and it cost them more than one game. A more consistent run game will do wonders for this offense, and that starts with the big man up front.
10. Paul Worrilow, Linebacker, 6'1, 232 lbs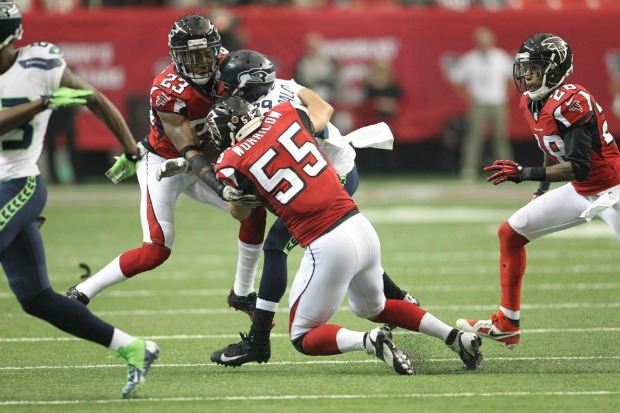 The loss of Falcons' defensive captain, Sean Weatherspoon, was a huge loss for an already suspect defense. But in the classic "next man up" scenario, Paul Worrilow will now be required to duplicate his surprise rookie season, again in 2014. The undrafted rookie was incredible in 2013, leading the Falcons in tackles, and making many pundits' "All Rookie Teams". Middle Linebacker is considered the quarterback of the defense, and Worrilow has shown that he is more than capable of performing on the biggest stage. His ability as a sure tackler and a threat to get to the quarterback, make him an important player for the 2014 Falcons.