Whether you're a student or a working class citizen, coffee shops provide a quiet place to get some work done. Coffee shops are big in Atlanta and one of the more popular places to meet up with friends and clients. Here are the 12 best coffee shops in Atlanta.
Can't ask for more than award-winning desserts, delicious coffee, quality food along with a cozy atmosphere. Sugar Shack is located in the Brookhaven Station shopping center. This is one of the best coffee houses in the area and is a must visit. Also, if you're deciding to have someone cater a party, Sugar Shack can do that for you.
4058 Peachtree Road Atlanta, GA 30319
404.816.6161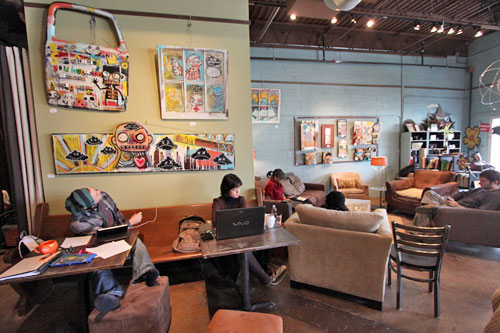 Rev Coffee isn't only popular amongst the locals of the Smyrna area, but also with out-of-towners. Very urban and has a great atmosphere to go hang out. Feeling hungry? Grab a sandwich while you're there!
1680-B Spring Rd
Smyrna, GA 30080 (770) 573-4434
Once just a family idea, Inman Perk Coffee became a reality and is located in "Atlanta's Oldest Neighborhood." Customer's come to enjoy a nice hot or cold beverage and deserts along with the view of artwork. One of the most customer-friendly with a family atmosphere that people will come to love.
240 North Highland Ave.
Suite H
Atlanta, GA 30307 (678) 705-4545
4. Joe's East Atlanta Coffee Shop
Looking for a nice, quiet place to get some work done in East Atlanta while having coffee and some delicious food? This is one spot to check out. There is a plethora of seating and tables. From desks to lunch style tables, you can come by yourself or with a group. Plenty of outlets so you can plug your phone, laptop or tablet. This is one of the best places in East Atlanta to visit.
510 Flat Shoals Ave SE Atlanta, GA 30316
(404) 521-1122
Definitely one of the easiest places to vibe to when you go visit. This is the center of  popular coffee spots in Atlanta. Octane has two locations in Atlanta (Westside & Grant Park) and both spots are pretty busy. Not only do they have great drinks, but you will get a bit of art in it. Also, for the artists in Atlanta you can submit your art for "Artist of the Month" to be displayed. Can't go wrong with a this urban environment with great atmosphere and baked goods.
In Atlanta's Old Fourth Ward on the corner of Freedom Parkway and Boulevard, just off of John Wesley Dobbs Ave is Condesa Coffee. Very passionate about the quality of coffee and tea they bring to the customers, Condesa uses Counter Culture Coffee and tea from Rishi Tea. But this isn't just a coffee shop, they also serve craft beers, hand-selected wine, and well-made cocktails.
480 John Wesley Dobbs Ave NE #100 Atlanta, GA 30312
(404) 524-5054
Cade Intermezzo is the oldest coffee-house in Atlanta. Intermezzo is built to model the European coffee houses. There are three locations in Atlanta: Dunwoody (built-in 1979), Midtown (Originally in Brookwood 1987 then relocated in 2013) and one in Concourse B of the Atlanta Airport (built-in 2009). The menu has a plethora of beverages (from coffee to alcohol), pastries, and cuisines as well.
More than just a coffee place, this is one of the unique places in Atlanta. Along with its delicious coffees, they offer a great menu for breakfast, lunch and dinner. With Josh Hopkins as the Executive Chef, you can expect the food to be top-notch!
999 Peachtree St
NE Suite
140 Atlanta, GA 30309
(404) 541-1105
One of the most unique coffee shops in the city. Not only is it for coffee lovers and creative minds, kids can also come and keep themselves busy. Coffee lovers can come and enjoy the organic products. Creative artists can come for open mic and monthly art shows.
720 Moreland Ave SE Atlanta, GA 30316
(404) 622-8525
A coffee-house that is also known for its wine is something to be checked out. Located in the Poncey-Highland neighborhood, you can check out the many blends and flavors of coffee and wines from around the world. Java Vino also offers a menu of breakfast items, sandwiches, pastries, salads, soups and many other items. One of the more popular places in Atlanta.
579 North Highland Ave NE Atlanta, GA 30307
(404) 577-8673
If you're looking for another option for coffee shops on the Westside, here is one for you. Cassandra, who started Urban Grind, wanted to create an independent coffee shop like the ones in NYC. Not only does this coffee shop offer pastries with Free WIFI, it also offers great ice cream! Urban Grind also provide weekly events such as poetry nights and music as well.
962 Marietta St NW Atlanta, GA 30318
(404) 724-0605