A 13-year old boy in Columbus, GA had his leg amputated after his teacher allegedly "body slammed" him on the floor over and over again.
It was Montravious Thomas' first day at Edgewood Student Services Center, a school specially designed for children with behavioral issues and misconduct, when the incident occurred. According to Daily News, behavioral specialist and employee Bryant Mosleys slammed Thomas to the ground after an altercation sprouted concerning Thomas' behavior. When Thomas attempts to leave to call his mother, Mosleys restrains him and bodyslams him three more times.
School officials told Thomas that an ambulance was on the way. However, they later attempted to make him ride the bus home. Family attorney Renee Tucker said that after Thomas began stumbling in a failed attempt to make it to the bus, Mosleys "threw him over the shoulder and carried him to the bus."




Thomas' mother, who the school failed to notify, noticed her son limping when he got off the bus. She told WTSP, "I walked out to the school bus and I asked what was wrong with him… He said the teacher slammed him."
This prompted her to take Montravious to the emergency room. When they found out that Thomas' knee was devastatingly out of place, he was immediately airlifted to Children's Healthcare of Atlanta at Egleston.
Doctors at the hospital attempted four surgeries to restore blood flow in Thomas' right leg. Unfortunately, nothing prevailed. It came to a conclusion that an amputation was necessary. His leg was amputated on Tuesday.
Thomas will be spending at least another month in the rehabilitation center where he will heal and learn how to walk with a prosthetic leg.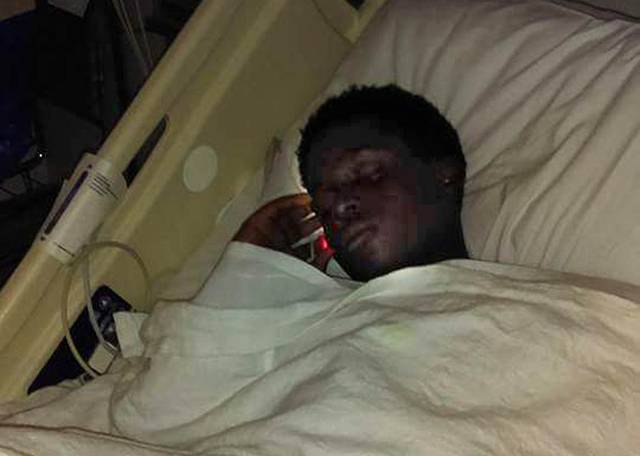 The family lawyer argues that if Thomas would have received urgent medical care, his leg could have been saved.
The district released the following statement in regards to the incident:
"Mr. Mosley is specifically trained in MindSet curriculum, a system of preventing and managing aggressive behavior, and Georgia restraint requirements. It is our understanding that there were issues concerning the safety of the child and others in the room, which called for the use of restraints per state guidance."
No charges or lawsuits have been filed yet, although the family plans to move ahead with a civil suit in the near future, according to Fox8. Since then, Bryant Mosley has been terminated from the district.