Don't you love how Georgia is quickly turning into its own Hollywood? In 30 years we may look back at this point and feel elated for being here during its incision, the Peach State is the best!
This time last year, there were 27 productions filming in Georgia. Now, heading into 2017 there are 37 new TV shows and movies setting up in the Peach State.
Georgia Film Tax Credit:
A state tax credit was signed into law in 2008 giving productions up to a 30 percent tax break by filming in Georgia. This incentive was enough to convince Hollywood producers to film in Georgia.
Big productions such as The Hunger Games, The Walking Dead and Divergent helped boost Georgia's film industry. In fact, small cities are now being used as filming locations. Producers are searching and finding small towns across Georgia to film their TV shows. The small town of Senoia, Georgia has transformed since The Walking Dead set up location in the small town.
So what's next?  In November, Pinewood studios announced they will be doubling the size of their studios, expanding the Georgia Film Industry, making it one of the biggest studios in the United States.
Here is the full list of TV Shows filming in Georgia.
via Project Casting
Movies and TV Shows Filming in Georgia
3000 LB Family
Reality show.
7 Little Johnstons
7 Little Johnstons is an American reality television series that premiered on the TLC cable network, on March 31, 2015. The series revolves around the Johnston family: a family of seven that live with dwarfism.
Ant Man and The Wasp
Currently, the movie's plot is unknown. But, the movie is a sequel to the 2015 hit Marvel film, 'Ant-Man'. The movie will star Evangeline Lilly, Paul Rudd, and Michael Douglas. Marvel has picked Peyton Reed to direct the feature film.
Being Mary Jane
The series was extremely popular on BET since it first debuted in 2013. For it's entire three year run, Being Mary Jane was ranked as the number one scripted series among African American audiences. In fact, the most recent season averaged 2.54 million viewers, which makes it one of the top 5 cable TV shows in the key demographic. However, the show's creator, showrunner, and director, Salim Akil and Mara Brock Akil signed a major deal with Warner Bros. Television in May which delayed the renewal of Being Mary Jane. 
Bluegrass Blood Red
Ruby Adair, the sheriff of colorful small town Oxblood, Kentucky, finds her red state outlook challenged when Tag Fayad, a young FBI special agent of Middle Eastern descent is sent to help her solve a horrific crime that happened during the 4th of July parade. Together they form an uneasy alliance as Ruby takes Tag behind the lace curtains of this southern gothic community to meet an assortment of bizarre characters, each with a secret of their own…
Chrisley Knows Best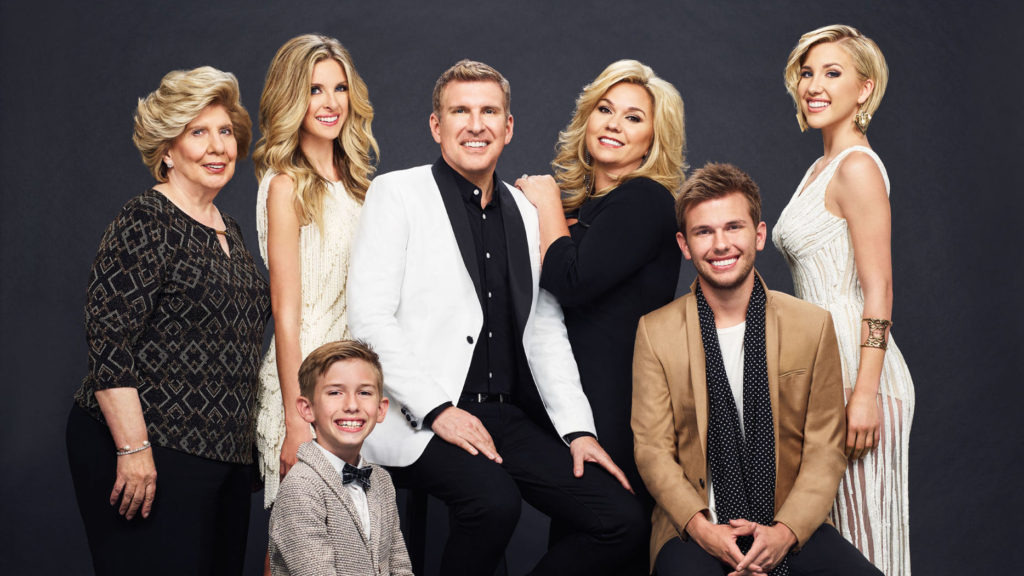 Follows Atlanta-based self-made multimillionaire Todd Chrisley, his devoted wife Julie and their five children who live a seemingly picture-perfect Southern life with everything money can buy.
Darkest Minds 
After a disease kills 98% of America's children, the surviving 2% develop superpowers and are placed in internment camps. A 16-year-old girl escapes her camp and joins a group of other teens on the run from the government.
Den of Thieves
Den of Thieves centers around $120 million that is taken out of circulation on a daily basis by the Los Angeles branch of the Federal Reserve and a notorious crew of robbers that plan the ultimate heist right under the noses of the city's best cops.
Dish Nation
Dish Nation is a nightly syndicated television program that features celebrity news and humorous commentary on pop culture presented by radio personalities from across the United States
Don't Be Tardy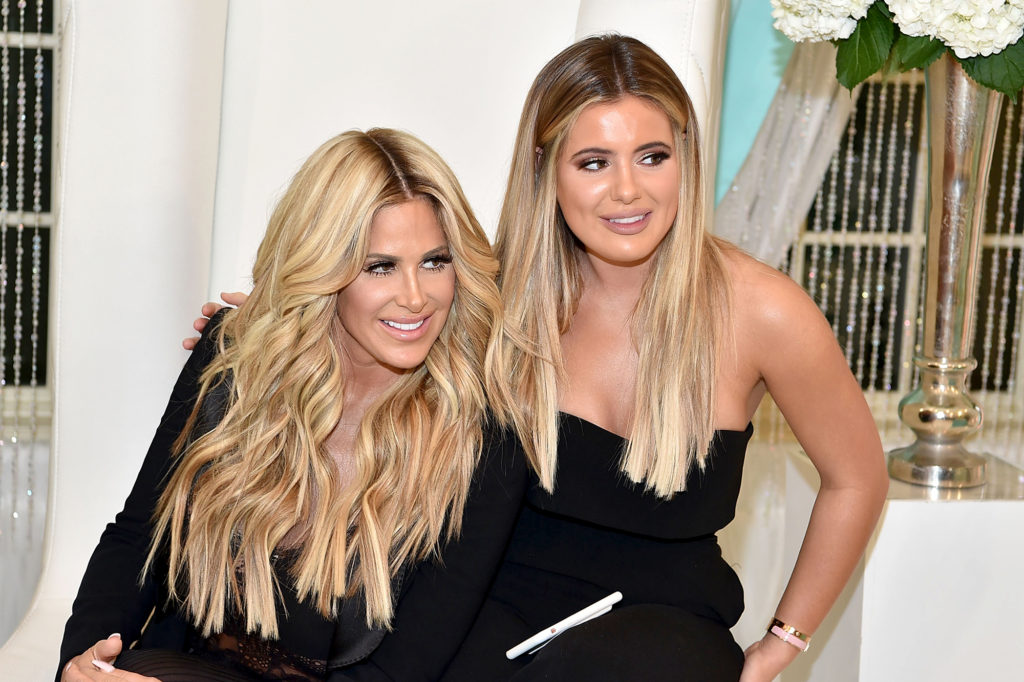 Kim and her family are back after she gets a new lease on life, following the stroke and major heart surgery that brought her run on Dancing with the Stars to a standstill. In this season, Kim has the world on her shoulders, attempting to convince her husband and NFL star, Kroy that it is time to expand their tribe all while she manages her busy schedule, pursues an acting career for KJ, launches a skin care line, and takes the whole family on a trip to Kroy's hometown in Montana for a taste of real country life.
Family Feud
Teams compete to match answers of nationwide surveys.
Game Night
A group of friends who meet regularly for game nights find themselves trying to solve a murder mystery.
Godzilla: King of Monsters
Plot is unknown. Stars: Millie Bobby Brown, Vera Farmiga, and Kyle Chandler.
Greenleaf
Greenleaf is "described as the center of the community for the thousands of predominantly African-American members who attend services there. But beneath its steeple lies a den of iniquity — greed, adultery, sibling rivalry and conflicting values."
Halt and Catch Fire
AMC's 'Halt and Catch Fire' is set in the early 1980s, it dramatizes the personal computing boom through the eyes of a visionary, Joe (Lee Pace); an engineer, Gordon (Scoot McNairy); and a prodigy, Cameron (Mackenzie Davis), whose innovations directly confront the corporate behemoths of the time
Honey 4
Sequel to the hit dance movie Honey. 
Little Women Atlanta Season 3
The lives of a group of girlfriends who happen to be little people are chronicled in this spin-off of "Little Women: LA."
Lore
A TV adaptation of the Lore podcast, which recounts true stories of frightening and paranormal occurrences.
Love & Hip Hop Atlanta Season 6
Love & Hip Hop Atlanta chronicles the lives of several women who are connected to Hip hop music. The third season premiered  with Kalenna Harper, Yung Joc, and Waka Flocka Flame joining the cast. VH1 has renewed the show for the fourth season.
Manifesto
Variety reports that the new series "Manifesto" will center around the story of how the FBI brought down one of the most infamous criminal masterminds in the world — Ted Kaczynski, also known as the Unabomber — from the point of view of an FBI profiler.
Avengers: Infinity Wars (Mary Lou Part 1 & 2)
Written and directed by the creative team from Captain America: Civil War, The Avengers: Infinity War will focus on basically every character in the Marvel Cinematic Universe including the Guardians of the Galaxy, Spider-Man and even Ant-Man, which should provide quite an amazing movie.
Production for Black Panther started two years ago and centers around T'Challa aka Black Panther, who premiered in the latest Marvel movie, Captain America: Civil War, which also filmed in Atlanta, Georgia.
Rampage
Deadline reports that Rampage will be directed by Brad Peyton and star Dwayne Johnson.  Details surrounding the plot of Rampage have not been released. But, the movie is based on the hit 1980s video game Rampage. Rampage is a 1986 arcade game where players control one of three giant monsters trying to rack up points by destroying cities while avoiding being shot at by tanks and helicopters.
Simon vs. the Homo Sapiens Agenda
The movie centers around a young gay teen takes a novel approach to coming out to his classmates. The movie features Nick Robinson, Alexandra Shipp, and Logan Miller. The project will be directed by Greg Berlanti.
The Last Full Measure
34-years after his death, Airman William H. Pitsenbarger, Jr. ("Pits") is awarded the nations highest military honor for his actions on the battlefield. One of the great untold stories of the Vietnam era.
The Pact
Three fathers try to stop their daughters from having sex on Prom night.
The War with Grandpa
Upset that he has to share the room he loves with his grandfather, Peter decides to declare war in an attempt to get it back.