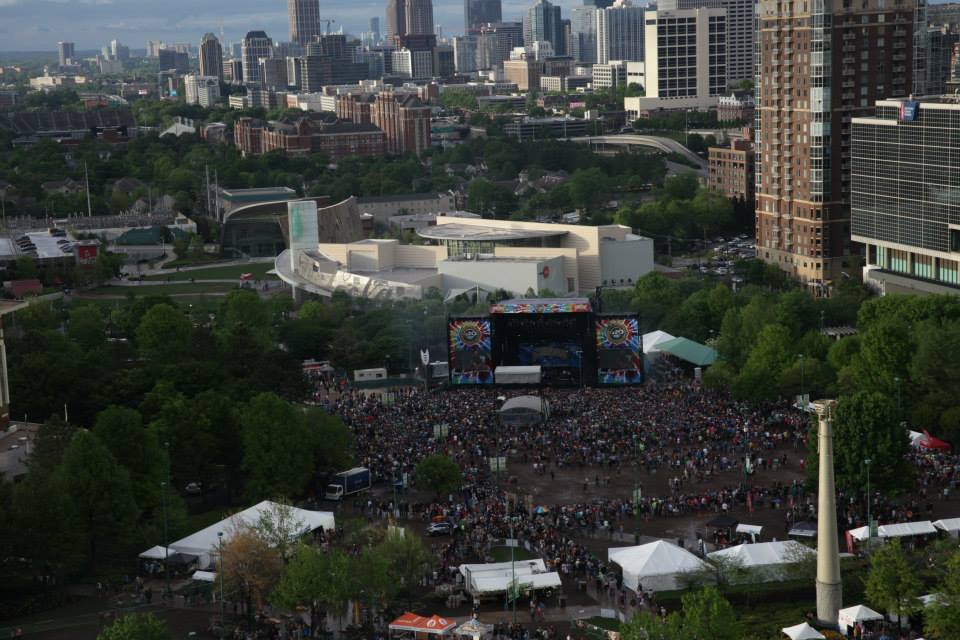 This past weekend was Sweetwater's annual 420fest, their celebration of their good beer, good music and good people. The past couple of years, it has been notoriously the muddiest music festival in Atlanta, and this year was no different. Almost to the point that Centennial Park has accepted that this festival will be their way of aerating the dirt and adding new sod for the Park. There was lots to do and see at the festival,  and here's a few superlatives I came up with about the festival.
Thank you to Addison Hill Photos for these awesome photos. My phone couldn't take the rain!
Band that Stole the Show: Primus
Primus is the right amount of weird, and the right amount of amazing which made their set just plain epic. First, they didn't opt for the generic Sweetwater background that most people used for their visual. They had not one, but TWO giant inflatable mushrooms, and an LED screen showing clips of old school claymation and Salad Fingers (don't know what that is? Well, search at your own risk). I didn't realize that the band was only 3 people, but they brought such a big sound ,that it didn't matter how "small" they were. The cult following that came with Primus was so large that night, we all learned that the best way to cheer for Primus was to tell them that they suck
#PrimusSucks
Most Distracting Vendor: Art Barrels!!
One of the quotes of our weekend was when my friend Ally and I saw the art barrels and she screamed, "DO I GET TO ART!?" There were water barrells set up where people can come put a painted hand print on them. For people that just want a break from everything, it's a nice change of pace from walking in the mud, dancing in the mud, drinking in the mud, or eating close to the mud.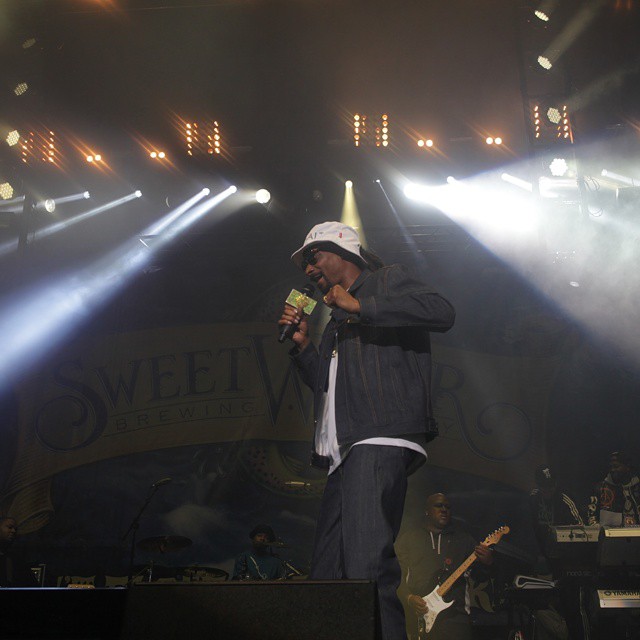 Best Headliner: Snoop Dogg
Some people didn't really like his performance, personally I loved it. 1) Snoop Dogg is hip hop history, it's like Run DMC at Music Midtown last year. They have to be seen because you don't know when they'll be back on tour, if at all. And 2) Snoop Dogg was just so nonchalant during his performance. It was a no frills, nothing fancy rap concert. Of course, he had his mascot, the dog with a giant joint and a giant…I won't go into that. But in short, the performance was all about the music. It doesn't matter if it was his verse in a Katy Perry song, or "Gin and Juice" he showcased his time in the music industry, and he's still making strides. One of my favorite performances of the weekend.
The Real MVP of 420fest: THE. FOOD.
There were so many food trucks/booths at this place, people didn't really know where to start. To me, this means so many options for those that are hungry, or just really like food (aka me.) First off, there were the heavy hitters of Atlanta there, Fry Guy, Bento Box, Yumbii, etc. But there were some outsiders that brought in good eats, like The Muenster Truck from Chattanooga, TN and many others. But the booth that stole the show was Island Noodles. They are wok fried noodles with spicy sauce and veggies, making it somewhat healthy and all around darn good. I got the noodles on Saturday and literally inhaled them.
What was your favorite part of 420fest?!