Let me tell you, I'm a bruncher. But I'm not the basic white girl that is all about bottomless mimosas, and normal brunch fare. I have to look for something that's off the beaten path. I found this place this past summer while I was meeting with my friends to talk about a film project, and with the wholesome brunch came with a really cool feature. Where am I talking about?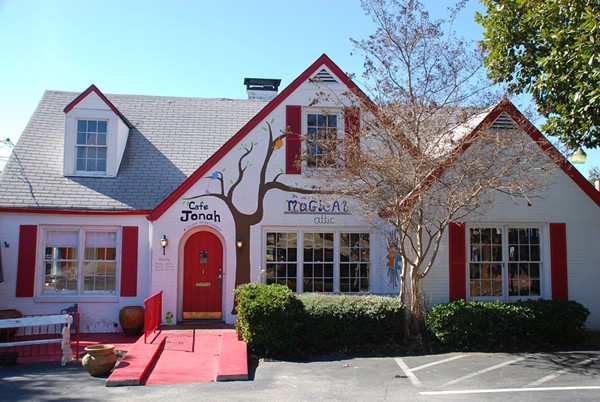 Cafe Jonah.
Cafe Jonah is a little off of Peachtree Rd, making it a bit difficult to get there. You'll have to go up Roswell Rd, and then back around a back street to get there. What's nice about it, though is that it's hidden behind some overgrown trees, making it secluded in the middle of the Buckhead hustle and bustle. When my girlfriends and I walked in, the first thing we noticed was the garden at the back of the parking lot. I felt like I was in The Secret Garden when we walked around it. I was hoping that little woodland creatures would come out and I would have a Snow White moment, unfortunately we still live in a city so that didn't happen.
Walking into Cafe Jonah, it's basically a house. Hallways are narrow, the doorways are not for those over six feet tall, and all around the cafe is cozy. I wasn't too hungry, but I got some coffee to hold me over. They serve all fresh ingredients, with produce delivered every day. They also know how to cater to all dietary restrictions, serving everything from soymilk to hazelnut milk (that's a thing!?). You don't have to worry about things being pre-cooked or frozen, and it makes things that much better.
This slideshow requires JavaScript.
Upstairs they have The Magical Attic. The Magical Attic houses a shop where you can buy incense and crystals, and you can also get your fortune told. They have a residential psychic where you can get your fortune told for a fee. So after you have your fair trade coffee, you can get some incense and find out what's in your future. But you can also feel the warm and fuzzies after all is said and eaten.
Every day, Cafe Jonah sends 10% of their proceeds to local charity. There's a set of 3 that they send their proceeds to, meaning that they are always giving back to the Atlanta community. Personally, this makes me want to have brunch there every week.
Address: 3188 Paces Ferry Pl NW, Atlanta, GA 30305
Phone: 404-343-4107