Buckhead is the go-to neighborhood for classy dinner spots and wild party bars. But the neighborhood is still growing and growing before our very eyes! Before we get into the meat and potatoes of this article, I want to mention a few things. All of the below establishments offer a variety of eats, drinks, city views, and high-end chef inspired cuisine. If you're looking to just sit and drink, my previous article can assist you if with that. However, if you're a foodie/drinkie like I am and love location, flare, new menu's, exquisite dining experiences, and out-of-the-box thinking, please continue reading.
Doraku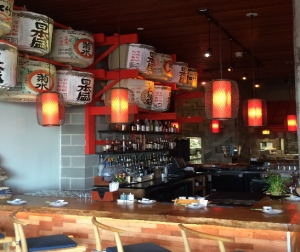 267 East Paces Ferry Rd NE, 267 East Paces Ferry Rd NE, Atlanta, GA 30305
Upon entry, you quickly forget that you're in the heart of Buckhead and begin to feel as though Chinatown moved in and hit you in the face with palm full of Asian culture. In fact, Doraku, which is Japanese for "The Road to Happiness", is a Japanese inspired Sushi restaurant with one of the most extensive Sake collections in the country. With two locations in Florida and two in Hawaii, this location is the only viable option for the Georgia resident wanting a taste of the Japanese culture. The intimately designed interior has a feel of a traditional Tokyo restaurant. A full bar and beer list that includes local brews and cocktails from Japanese descent will make you forget you ever had a Bud Light. The Sushi speaks for itself. It is fabulous in look, presentation, taste, authenticity, and most importantly, flavor. My personal favorite is The Godzilla Roll (Salmon, Cream Cheese, Avocado, and Krab, Tempura fried and served with Spicy Aioli Garlic, Jalapeno, and Eel Sauce).  If you're looking for a California Roll, go to your local supermarket and buy it there; this place isn't for you. On the other hand, if you're a sushi fanatic and want to try new and innovative sushi rolls sashimi/nigiri combinations, come in and prepare to be amazed. Valet parking is available two doors down and is the best option. You can self park in the new Buckhead Atlanta community and walk to Doraku as well. Enjoy this gem and thank me later.
Buckhead Tavern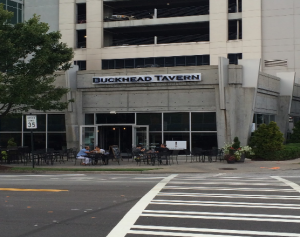 264 Pharr Rd NE, Atlanta, GA 30305
Located on the corner of Pharr Rd and N Fulton DR below The Eclipse of Buckhead Condominium , Buckhead Tavern has made a splash in the Buckhead community. Owner Johnny Esposito, Jr. wanted to provide a unique and comfortable local establishment for the working professional to wind down after a long workday. He has done just that! Buckhead Tavern offers fresh, approachable tavern fare, handcrafted cocktails and a curated selection of beer and wine in addition to live entertainment Thursday through Sunday. As you walk in, it's hard to not notice two things: an enormous flatscreen TV mounted on the back wall and a bar that could sit more than 20 people! High-tops and booths surround the bar to make for a spacious floor plan. A small, but very functional, patio is available that offers the neighborhood view of Pharr Rd; typically very occupied because of the comfortable vibe. The lunch and dinner menu offer options for the healthy conscious as well as foodies looking for new spin on traditional plates like Pork Chops, Chicken Parmesan, and Fish & Chips . All sandwiches are served on the notoriously delicious Holeman & Finch bread and healthy alternatives to french fries are available as well. Can you say Quinoa? No, seriously can you? Ask about their private room in the back of the restaurant for corporate meetings, football game watching parties, and private events; available for rent.
Corso Coffee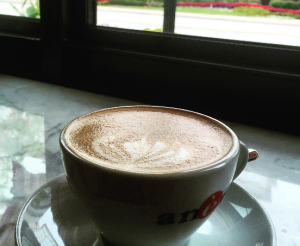 3035 Peachtree Rd, Atlanta, GA 30305
Before we dive into the Corso Coffee movement, let me clarify that I'm an American italian and very proud of it. That said, Corso Coffee has quickly become my go-to coffee house in Buckhead. Yes, there are 5 Starbuck's in Buckhead, but do you really want the mainstream when it comes to coffee? I didn't think so. This brightly-decorated and high-energy establishment sits right on Peachtree Road across from Season's 52 and King & Duke, in the new Buckhead Atlanta establishment. I made a trip to Florence, Italy this spring and fell in love with the concept of coffee shops on EVERY corner. Corso has an Italian vibe with all of the expected cafe standards (coffee, espresso, cappuccino, latte, macchiato, tea, and more). They have a wonderful bakery with exceptional pastries, muffins, croissants, sandwiches, paninis, wraps, and more Italian delights than you could ever dream of. Did I mention Cannoli? This orange juice machine they have is no-joke the best glass of OJ you can possibly have. Heaven in a glass! The staff is wonderfully polite with an exceptional attention to detail. The icing on this beautiful cake is the addition of a wine list, small bar, and tap of what else…? Peroni. I wholeheartedly recommend this coffee shop and encourage you give it a try. However if you don't, that's fine. More coffee and pastries for me.
Southern Gentleman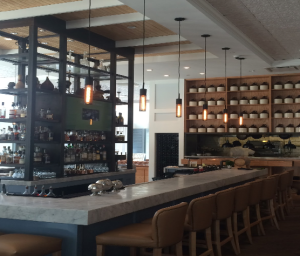 3035 Peachtree Rd NW, Atlanta, GA 30305
If you're familiar with the new Buckhead Atlanta development you might not know that this Gastropub is located on the second floor right next door to The Shake Shack patio. If you're not familiar, take a stroll around Buckhead Atlanta and you'll find it sooner or later. For the bourbon lover, this is the place where your pallet will be satisfied. With an elaborate stock of whiskey, bourbon, and rye spirits, The Southern Gentleman has a unique and tranquil atmosphere that will make you feel as though you're sitting, and drinking, in the lap of luxury. To pair your distilled spirit you can choose from southern delicacies like deviled eggs, pimento cheese and crackers, and vidalia onion crab dip. Some of us, myself included, have more of an appetite than we'd like to admit. During these times I would be doing you, and our community as a whole, a disservice if I didn't mention entrees like Cast-Iron Seared Coulotte Sirloin Steak, Duck & Dumplings, Carrot-Carolina Gold Risotto, and Low Country Shrimp Boil. This restaurant speaks the language of the south and pairs it's mouth watering food with beverages that complete the experience. The Southern Gentleman will not disappoint, I guarantee it.
American Food & Beverage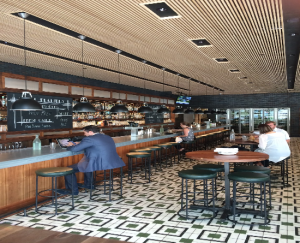 250 Buckhead Ave NE #334, Atlanta, GA 30305
Everytime I walk or bike by this place, the smell of burning wood and BBQ hits me with the force of a Mike Tyson uppercut. I was thrilled to learn this restaurant was going in close to my house and was one of the first to try it. Well worth the wait and exceeding my expectation. Located on the corner of Buckhead Ave and North Fulton DR, American Food and Beverage is beautifully decorated like your grandma's kitchen, but has a grown up and professional vibe. What caught my eye first was the 30 feet of bar space that lines the restaurant. I had the pleasure of drinking a handcrafted cocktail that included gin, bitters, a berry juice blend finished with a strawberry- perfection in a glass. As we closed in on our table, positioned next to the window that looks out on North Fulton DR, I begin to wonder what I'll order. For appetizer, it was the flatbread with vine-ripened tomatoes; similar to bruschetta, but less acidic and full of flavor. A wonderful start. For dinner you can choose from hearty portions of Pot Roast, Flank Steak, Fried Chicken, and great sandwiches (I had the Reuben). These plates are healthy in portion and do not lack in taste or presentation. A fabulous experience that I would recommend to all and most assuredly try time and time again. Sophisticated and phenomenal service will keep American Food & Beverage in my regular rotation of restaurants worth going to and surely other Buckhead residents as well. Happy eating!
Starting to get hungry or thirsty? You can check out my Buckhead adventures on my Facebook, Twitter or Instagram! I try to have a lot of fun, promise!