You've probably heard about it. I mean, it definitely has the reputation of being renowned for it's alternative culture and population. Maybe some of your friends go but you always conveniently have something to do on the days that they invite you to tag along. Well, perhaps it's time to rethink missing out on such a cool place to go. As a frequent visitor of this part of town, I've compiled a list that I will attempt to use to convince you to come visit this little corner of Atlanta.
1. It's artistic
Everybody likes art. Even the harshest critic should come to appreciate that art essentially molds our entire world. Little Five Points acts as a reminder that art is everywhere. Art exists in several different mediums – as proven by the murals, the music, and the unique little trinkets that are found all over this place. In fact, this little town was labeled second on the list of most "Artist Friendly" places by PolicyMic – housing an impressive number of actors, artists, musicians and creative professionals. The people you'll find wandering the streets are often visually and obviously artistic as well – as you may have heard. But perhaps, instead of fighting the change of scenery, you could welcome it with the idea that you just may see something new that inspires you while your there – I know I have.
2. It's never boring.
Perhaps I shouldn't say "never" in my reason above considering anything can get boring if you overdo it. But, I do believe it would take you a significantly longer amount of time to get bored with Little Five Points than it would have in some other places.
Little Five Points constantly has new events going on. Just a few weeks ago, they hosted their annual Halloween Festival and Parade with their usual huge turnout and lists of festivities going on in the area. Continuing with the theme of the arts, there's also a showing of the Rocky Horror Picture Show with live actors at the Plaza Theatre just down the road every single Friday night at midnight. Variety Playhouse, located off of Euclid Avenue, acts as a theatre and nightclub – welcoming fans of both indie and mainstream music to enjoy the acts in a cozy place.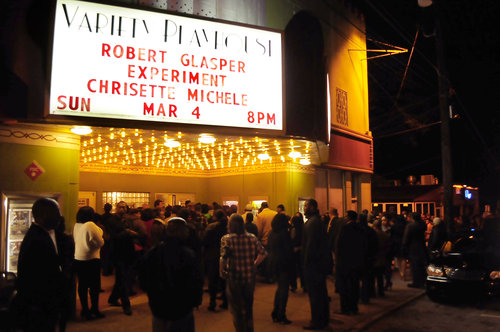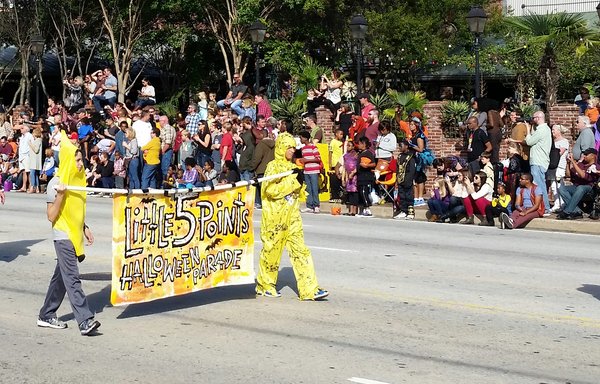 3. Shopping!
Even if you don't like shopping – you'll still like it while you're here. Within Little Five Points there are two independent bookstores (A Cappella Books and Charis Books and More), a handful of record stores, coffee shops, vintage clothing stores (Rag-O-Rama), novelty shops (Junkman's Daughter), a new-age shop (Crystal Blue), and a natural foods store. The shops overflow with uncommon knickknacks that will eventually clutter your home if you become a frequent shopper there! It's just so hard to pass up the funny salt and pepper shakers, the tapestries and lava lamps, or even the bongos or handmade blankets. Plus, if you're still looking for a last-minute Halloween costume – the Junkman's Daughter is bound to have something for you!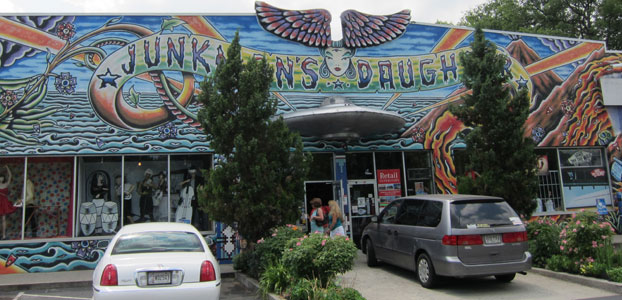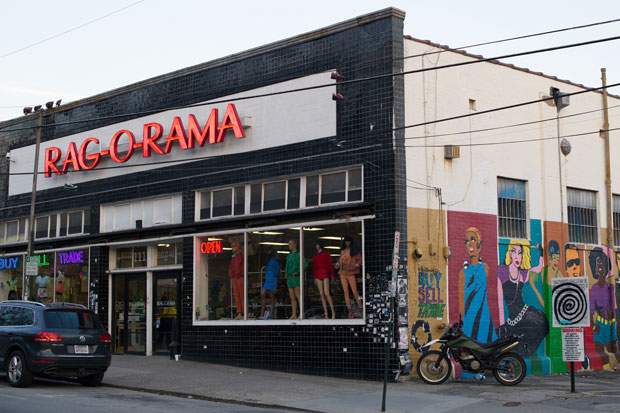 4. The atmosphere.
I know I already approached this area once, but I cannot stress enough to you just how different of a mood the whole place is filled with. When asking a frequent visitor of Little Five Points why they would spend their time and money here, they simply said "just because it's weird." And it is. The vibes from the place welcome men and women of all walks of life – regardless of your clothing, hair color, sexual orientation, race, anything. Going to a mall is great – but sometimes it's too quiet and too restraining and too enclosed, whereas a location like Little Five Points embraces the beauty of the outdoors and of the artistic potential that walks through the streets. The area is full of welcoming and accepting young faces that appreciate the artistic abilities of their peers. It might sound wishy-washy and 'too good to be true' to you, but once you've visited Little Five Points at least once, you'll understand the unique atmosphere that floats through the air of the entire place.
5. The Food!
Let's just pretend that everything I said up there means absolutely nothing to you. You don't care about art or shopping or nice people or any of that jazz, but there's one thing that's sure to capture everybody's attention – food. Little Five Points is home to some of the best locally owned restaurants in Atlanta. You won't find any chain restaurants here, however you will find some amazing pizza places (Little Five Points Pizza, Savage Pizza and Camelis), some impeccable bars, a great Tex Mex Grill (Tijuana Garage), and even the Fox Bro's BBQ joint located off of DeKalb Avenue. Among these local favorites is also the award-winning Vortex Bar and Grill located right next to the Junkman's Daughter store – for more info, see "Review: Vortex Bar and Grill"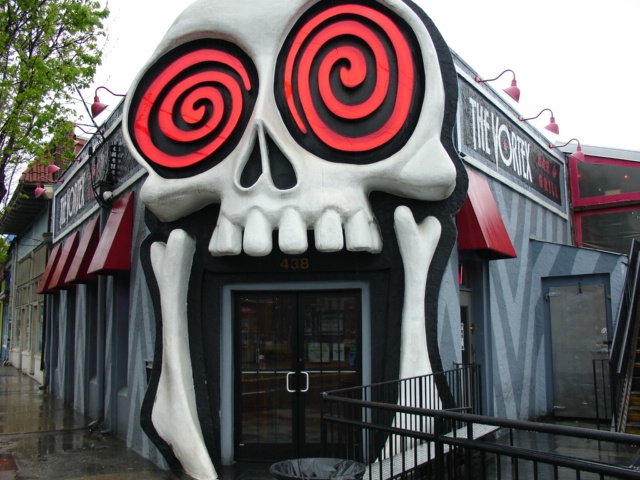 There's not really much left to say. I've given you my well-thought-out reasons as to why I believe that Little Five Points is a place that should be marked off of everybody's "Visit Before I Die" lists – if that's even a thing that people have.
But, all jokes aside, Little Five Points is an excellent place to visit on a Saturday afternoon with some friends. I can assure you that you will find something fun to do!