So you're in Little Five Points, or maybe you're just around the area, or maybe you're not. Wherever you are, you're hungry. And what else could fulfill your hunger needs then a really, really good burger? If you're anything like me, you've come to appreciate a genuinely tasty burger – as compared to a double cheeseburger from McDonald's. Don't get me wrong, a Whopper or a Big Mac can really hit the spot sometimes, but there comes a time when you want more out of your burger.
Which brings us to the Vortex.
Okay, if you've never heard of this place before, you're in for a treat. And if you have eaten there, you know exactly what I'm talking about.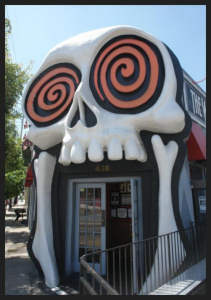 The place has a unique atmosphere and mood about it – noticeable before you even walk through the door. Why? Well, it could be because it's not just a door you're walking through – it's a skull's mouth. And if that's not intriguing to you, just wait 'till you're inside.
I arrived around 6:00, and though it wasn't crowded – it was still busy. We were greeted immediately, asked to show our I.D.'s (you must be 18+ to eat there!), and asked where we'd like to sit – upstairs or inside. I'd eaten inside once before and I didn't even know there was an upstairs to the place, so I chose to eat there. Now, if you're wondering as to why you have to be 18 to even walk into the place, there is a lovely mural on the wall upstairs, along with various pictures located in the dining room that will probably answer that question for you. It's definitely not a place for small children. Also, the restaurant allows cigarette smoking – which also explains the need for immediate age identification upon your entrance.
Once you're seated, you finally will have a chance to look around at all of your surroundings. If it's your first time there – I suggest sitting inside, it's extremely decorated.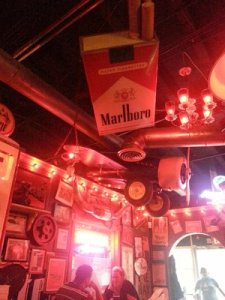 Alright, we've seen all we want to see – let's look at the menu.
The front of the menu is absolutely hilarious and you've done yourself an injustice if you've skipped reading it. It's the "Stuff You Really Need to Know" page, beginning with the Vortex #1 Rule – that this is an "Idiot-Free Zone". The Rules go on to explain the kind of restaurant that they intend on running – a very laid-back one.
If the decor on the walls wasn't enough to convince you that this place needs age requirements, then a look at some of the names on the menu just might. Among their appetizers is the "Badass Buffalo Wings" and "Borracho Nachos" (that means drunk nachos in Spanish, in case you didn't know!) and they have some amazing fried pickles spears as well.
I was starving and wanted nothing more than a burger – but there's so many choices! Their burger names are entertaining as well, beginning with some such as a "Yokahama Mama", "Ka'mana Wa'na Lei'ya", "Hell's Fury" and "Blue 'Shroom". If those aren't enough for you, they also have a whole other section entitled "Bypass Burgers". There's three types – the Coronary Bypass, Double Coronary Bypass, and Triple Coronary Bypass – the latter is impressively large with its two grilled cheeses as a bun, three patties, ten slices of bacon, and an unrealistic amount of cheese – earning it the title of #2 on the Delish.com "Most Outrageous Burgers" list. They sound intriguing, and have their names for a clear reason, but I'm way too much of a wimp to try something that serious. After that, they have their section of "OMFG Burgers" – my favorite is torn between the "Carnivorgasm" and the "Hangover Helper".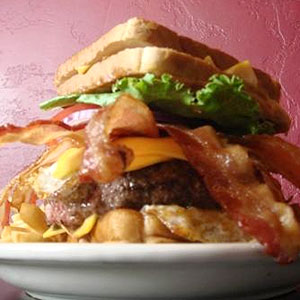 If you're totally turned off by all of this, fear not – they do have non-beef options as well!
It took quite a while, but I was finally able to decide what I would get. I got the "Black & Blue" and my boyfriend, who was with me, got the "Four Horsemen".
It didn't take long from when we ordered for our food to be brought to us, and the waitress was very kind and laid-back as she took our order.
And then the food came. And we ate and ate and ate and ate and I felt like I had eaten all I could until I looked down and realized I had half of a burger left. Though the burgers aren't that cheap, you are definitely getting what you paid for. Both were delicious, and I promise you that I'm not just saying that. The Yokohama Mama will be the one I go back for, however – the "Black and Blue" was satisfying but the grilled pineapple that was on the first burger I had tried just can't be beat.
If you haven't tried the Vortex's burgers, I really hope you will give them a shot. However, if you're 18 and hoping to go – you better go before the end of the year! On January 1st, they're changing both Vortex locations to be strictly 21 and over. Their extensive selections of drinks and the popularity of their bar demanded a raise in the age limit, so now all of us giddy 18 year olds must quickly eat all the burgers we can from there for the next two months – maybe we'll be so burnt out that we won't even miss them.
Vortex Bar and Grill
438 Moreland Ave NE, Atlanta, GA 30307
(404) 688-1828