As unbelievable as it sounds, a grape vineyard is coming to Midtown Atlanta as an extension of the Atlanta Food and Wine Festival. The vineyard is currently under construction and will be ready for use June 2. Following the conclusion of the festival, the pop-up vineyard will remain open to the community and for private rental, until June 30.
Deemed "vineyard in the city" by festival organizers, the sprawling grass land sits between Highland Bakery (Midtown) and One Atlantic Center. The odd downtown location prompted some on lookers to question the authenticity of the area.  Curbed Atlanta reported questions such as, "Are they setting up to film a movie?" and "Why does it look like a vineyard?"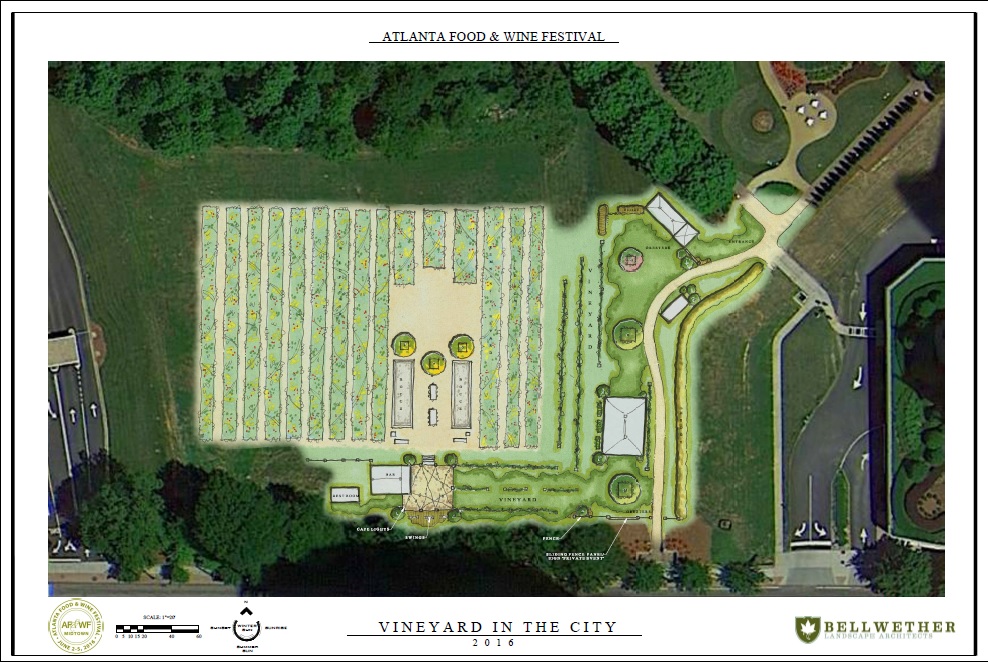 The pop up vineyard will be the first of its kind in the U.S. and the festival is hoping to impress its guests as they will be the first to experience this unique vision of bringing wine vineyards to busy metropolitan areas. The festival noted that the idea for this new attraction was inspired by the McGuigan Wines Dublin City Vineyard. The highly anticipated success of this pop up vineyard, could spark a new trend nation wide.
The vineyard will include 60 Sun Grown grapevines, from Jaemor Farms in Alto, GA, a wildflower meadow and two bocce courts.
The 2016 Atlanta Food and Wine Festival is set to run June 2- June 5 and will offer its guests a multitude of decadent events and learning opportunities. The theme for this years festival is "Eat. Drink. Southern."
To accompany the vineyard location, the festival will also host events at the Loews Hotel and Piedmont Park.
For more information or to purchase tickets to the Atlanta Food and Wine Festival, visit here.