The Fox Theater is once again bringing some classics to its big screen with the 2016 Coca-Cola Summer Film Festival. 
The festival had an early start this year with a showing of Purple Rain to celebrate the life of Prince. May 14th marked exactly one month since his amazing performance at the venue, so it was only fitting for the showing to be that day.
This summer's lineup will celebrate many film anniversaries and a Saturday morning devoted to cartoon favorites. Audiences will also get to enjoy modern and vintage films on the Fox's 26-foot high x 56-foot-8-inch wide big screen, with the famous starry night above.
As an added bonus this year, fans will have the chance to vote on the ending summer film. Fans can head to Fox Theater Atlanta's Facebook page and vote on the nominees.
Attendees can also take advantage of Special Movie Tours before the showings. Patrons will be able to walk through the projection booth and screening room while learning more about the rich history of the now iconic theatre and William Fox's legacy.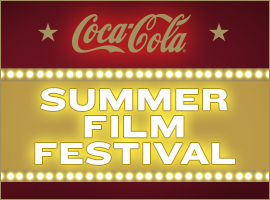 2016 Coca-Cola Summer Film Festival Schedule*
*All showings are at 7:30 p.m. unless otherwise noted
Saturday, May 14 Purple Rain, a celebration of the artistry of Prince
Friday, June 10 Ferris Bueller's Day Off, 30th anniversary
Thursday, June 30 Breakfast at Tiffany's, 55th anniversary
Thursday, July 7 The Shining
Thursday, July 21 Shrek, 15th anniversary
Thursday, July 18 TBA
Thursday, August 18 TBA
Saturday, August 20 @ 10 a.m. Saturday Morning Cartoons
Saturday, August 20 Willy Wonka and the Chocolate Factory ('71), 45th anniversary
Thursday, August 25 Citizen Kane, 75th anniversary
Saturday, August 27 @ 2 p.m. Disney's The Little Mermaid, Sing-a-Long
Saturday, August 27 Closing Night's Fan Favorite
Patrons have the chance to take advantage of discounted tickets if purchasing before the day of the show. Day of tickets are $12. Sing-alongs are reserved seating only and hold a price of $15 in advance and $20 the day of the show.