Say goodbye to the "TED" Atlanta Braves fans. The Atlanta Braves have just announced today the team plans to relocate 10 miles outside the city of Atlanta to Cobb County with a new stadium opening April 2017. They will be leaving Turner Field after their 20 year agreement expires at the end of the 2016 season.
The new stadium deal has already been signed and is now in motion. It will be built near the intersection of I-75 and 285 and team officials confirmed the stadium would be built with some percentage of public funds.  That would put it in Cumberland, closer to Marietta than to Atlanta. The Braves website says the new stadium will be closer to the geographical center of Braves Country.

Turner Field is what remains of the Olympic Stadium built for the 1996 Atlanta games. It was converted into a baseball stadium, opened for the 1997 season.
The Braves have a website offering more details on the move:
Turner Field is a facility that was built for three weeks of use for the Olympics, but has now served us well for nearly 20 years. The issue isn't the Turner Field we play in today, but instead whether or not the venue can remain viable for another 20 to 30 years.

Turner Field has served the Braves well since 1997, but it is in need of major infrastructure work, which will cost around $150 million. These upgrades are functional ones, such as replacing worn-out seats or upgrading the stadium's lighting, and they would do little to significantly enhance the fan experience. If the Braves were to pay for additional projects focused on improving the fan experience, the additional costs could exceed $200 million.

Those upgrades still wouldn't address the logistical challenges outside the stadium – lack of consistent mass transit options, inadequate number of parking spaces and limited access to major highways.
This is where the actual stadium would be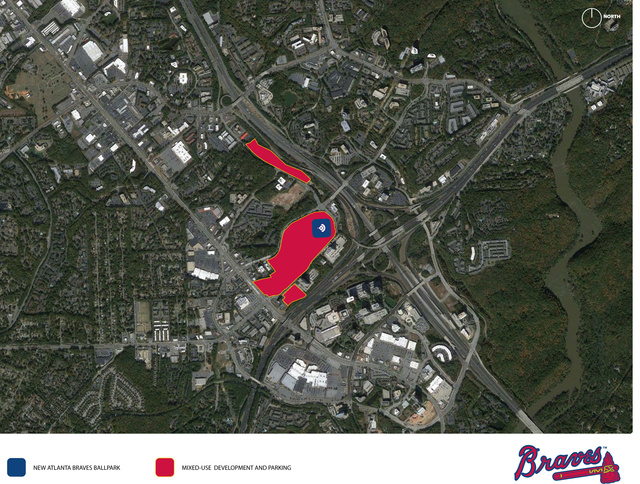 The team will provide updates on the new project at HomeoftheBraves.com.
[poll id="9″]