Although it may seem difficult to look ahead after that incredibly devastating Super Bowl loss, the Atlanta Falcons' success is truly just getting started. Thomas Dimitroff and Arthur Blank have put together a strong franchise, and Dan Quinn has brought it all together to create a stellar foundation for many years to come. With it's crop of budding talent, excellent coaching, and finally a real taste of success, this team looks primed to be a dangerous contender for at least the next few years. Here are a three reasons why, even after this Super Bowl's tragic ending, you should be excited about the Falcons' future:
1. Tons of young defensive talent
Although he has received overwhelming amounts of hate at certain points in his tenure with Atlanta, Thomas Dimitroff has made some tremendous under-the-radar additions to this team over the past two years. Him and defensive guru Dan Quinn, who is one of the best developmental coaches in the league, have worked together to turn this lackluster defense around. What was once the worst defense in football has quickly turned into a unit that looks primed to be one of the most feared in jut a couple of years.
On the defensive line, the Falcons picked up two Clemson products in the 2015 draft, and both have blossomed into key building blocks in the trenches. Vic Beasley bursted onto the scene this season to lead the NFL and sacks as a feared edge-rusher, and Grady Jarrett was quietly a solid, high-motor player until he too showed the world his outstanding talent, posting 3 sacks on Tom Brady in a dominant performance at the Super Bowl.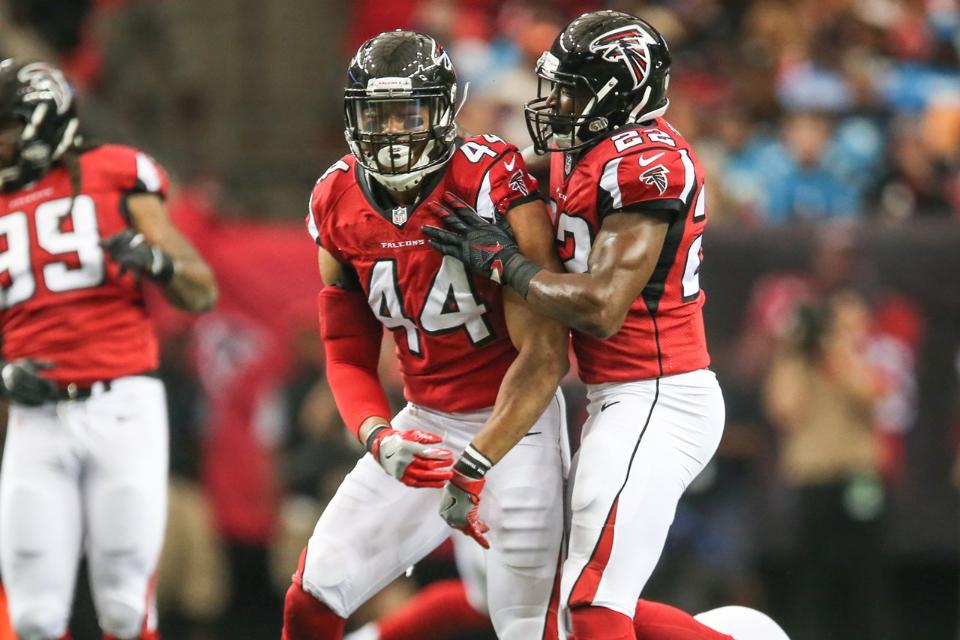 Deion Jones and De'Vondre Campbell, who were 2nd and 4th round rookies this year, finally gave Dan Quinn the "fast and physical" linebackers that he had hoped for to command the defense. Jones, in particular, had and outstanding rookie year at middle linebacker, posting over 100 tackles and coming up with some huge turnovers. Both players are looking like major steals, and should develop into a dangerous duo as they gain experience.
Atlanta's secondary, however, is the group that could put this defense over the top. Even after Atlanta's best defender, Desmond Trufant, was placed on IR, Pro Football Focus still gave the Falcons secondary the 6th highest grade in the NFL throughout the regular season. Starting cornerbacks Desmond Trufant and Robert Alford are the two oldest of the defensive backs unit. The former is a 26 year-old Pro Bowler, and the latter is a premier number two cornerback, but the best part is that neither have hit their prime. These two players already form a strong twosome, but Jalen Collins and Brian Poole also had sneakily-good seasons at cornerback as well, and both saw much time as a starter after Trufant went down. Atlanta having four young cornerbacks that are capable of starting next season puts them in an extraordinary position to utilize dime sets and shut down opponents' passing games.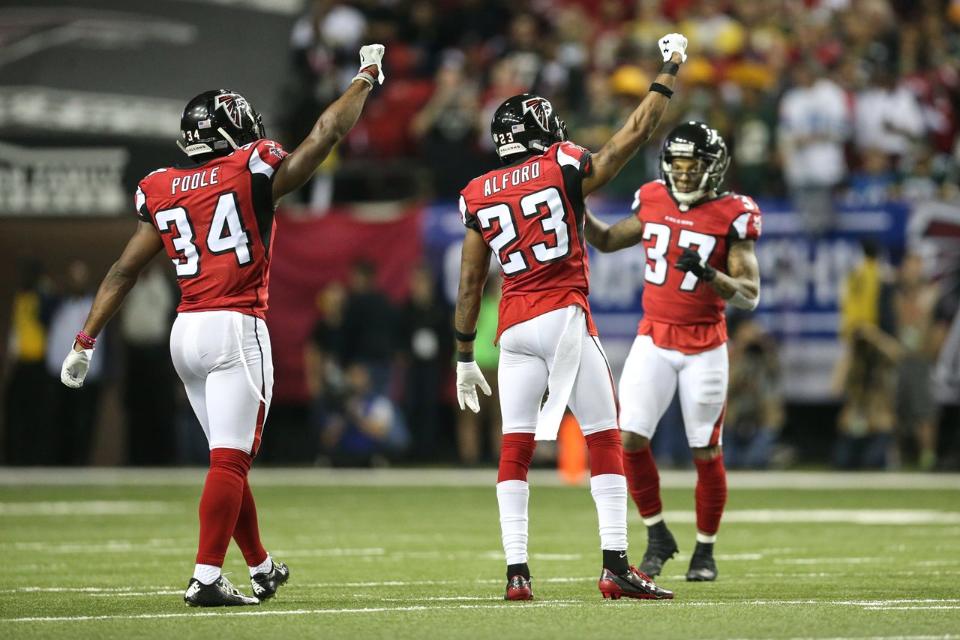 At safety, rookie Keanu Neal and second-year starter Ricardo Allen showed improvement game after game, and both look to carry their incredible work ethics over to next season. Neal was one of PFF's top safeties in coverage, and Dan Quinn has called him the teams best run defender as well. Ricardo Allen, though inconsistent at times, has emerged as one of the team's vocal leaders and has a knack for the ball.
2. Lots of cap space and deep upcoming draft
Atlanta's defense, with its plentiful young talent and constant improvement, actually has the potential to add even more playmakers this offseason. This 2017 draft is loaded with skillful players, especially on the defensive line, where talent can be found deep into the later rounds. The Falcons will most likely try to fill needs at defensive tackle, linebacker, offensive guard, and hopefully find a formidable counterpart opposite to Vic Beasley as a pass rusher. Because of how many capable prospects there are, Atlanta has been linked to vast amount of players. In terms of mock drafts, Sports Illustrated has Atlanta taking Florida DT Caleb Brantley in round one, and CBS Sports has us taking edge rusher Charles Harris at 31st overall.
The Falcons are in relatively good salary cap position, giving them the opportunity to extend key players such as Desmond Trufant, Devonta Freeman, and Matt Ryan. While it is unlikely they will pay top-dollar for a marquee free agent after coming off an amazing season, the front office has done a great job recently of finding overlooked talent that fits our team schematically.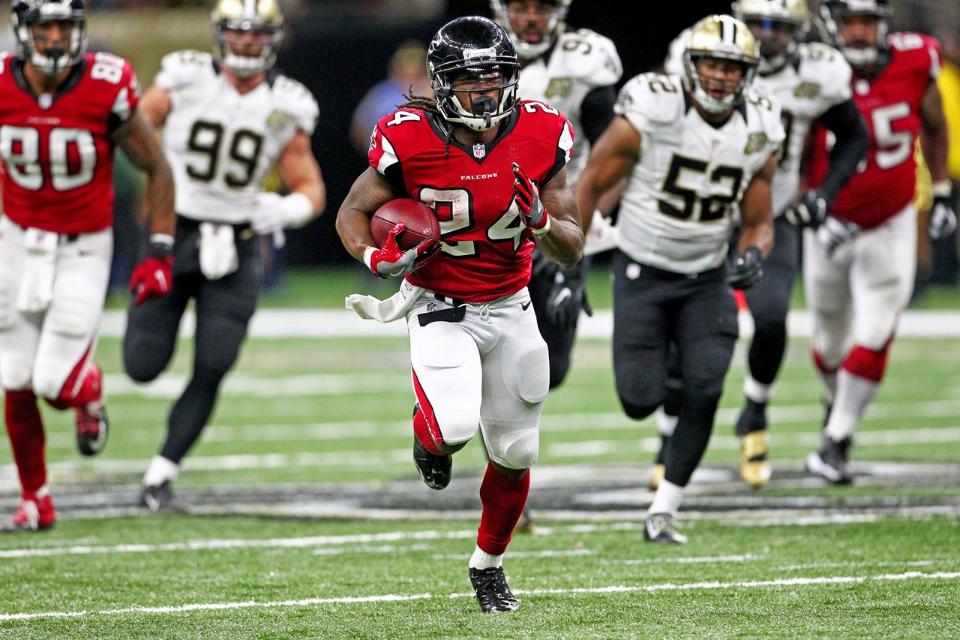 3. The Falcons still have a potent offense
Despite the loss of Kyle Shanahan, despite the historic fourth quarter collapse, despite a few lingering injuries, the Atlanta Falcons can and will remain a vaunted offense in this league. Newly named offensive coordinator Steve Sarkisian has plenty of experience running successful offenses on top college teams, and has already made it clear that he is keeping the same scheme that made Atlanta so good in 2016. The offense isn't losing any key pieces for next season, with the main free agents being guard Chris Chester and tight ends Jacob Tamme and Levine Toilolo. Whether they return or not, Matt Ryan has a plethora of weapons and a dominating run game that can outscore any team in football.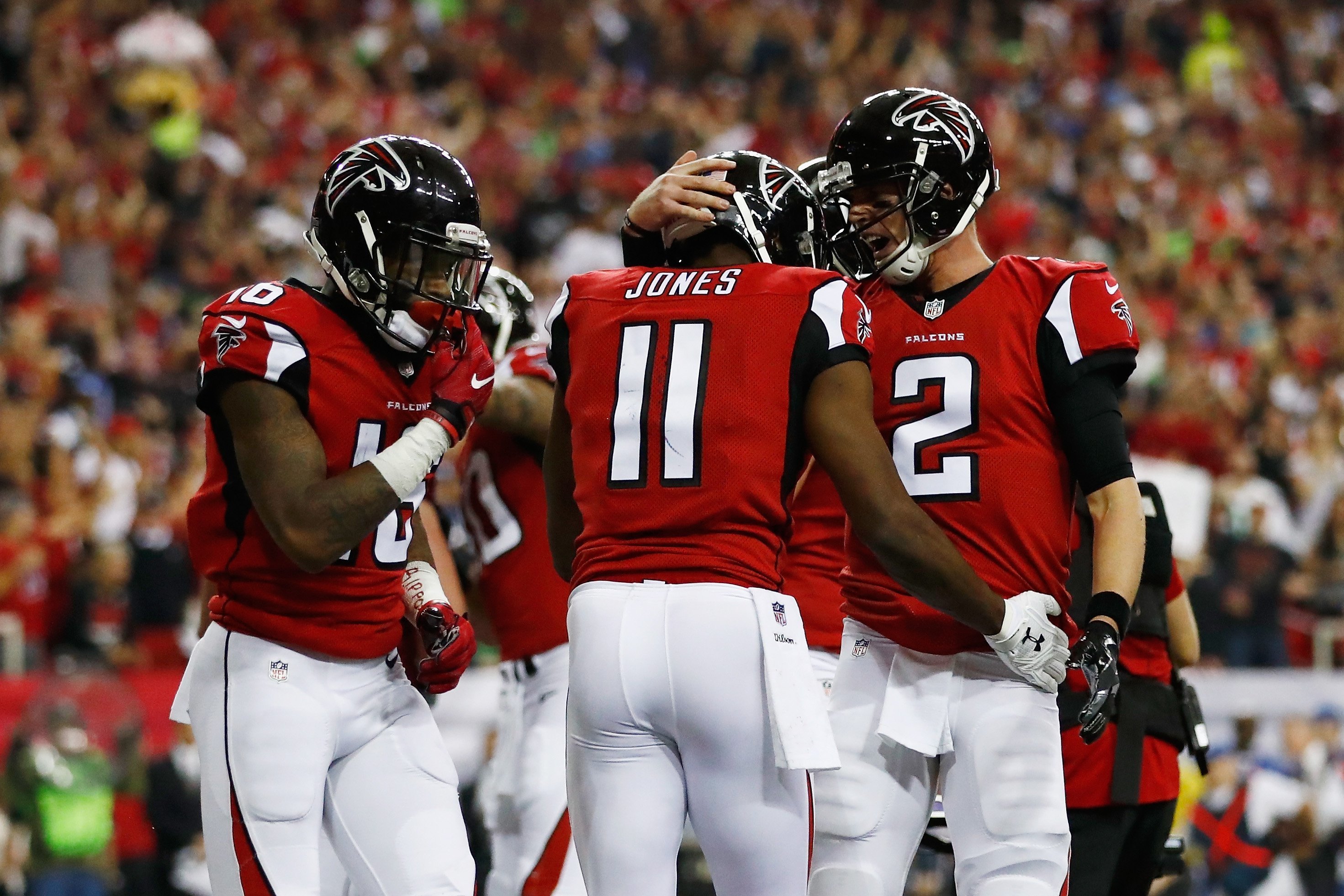 Ryan, coming off of an MVP season and one of the best in quarterback history, is looking ready to beat down defenses once again this year. He already has the fourth best odds to repeat his MVP title next season, and will have the same exact wide receiver core to help him to that goal. Julio Jones, Mohamed Sanu, and Taylor Gabriel may be the most dangerous threesome in the NFL, and he still has reliable weapons such as Justin Hardy behind them. Austin Hooper emerged as a viable starting tight end option in his rookie year, and is working to improve in all aspects of the game.
On the ground, Devonta Freeman and Tevin Coleman make up statistically the best duo in the league, and Steve Sarkisian is known to get the best out of his running backs. Hopefully, the Falcons can re-sign Patrick DiMarco, who has been great at making key blocks and has done well as receiver too. With a top tier offensive line leading the way, an elite aerial attack, a dynamic running back duo, and headlined by an MVP quarterback, this offense is primed to remain one of the best in the business.