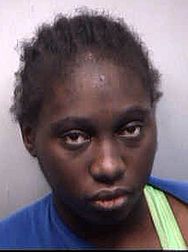 A 21-year-old Atlanta woman was arrested Tuesday night after telling a 911 operator she wanted to blow up the city jail, according to police.
Catealius Sanders was charged with terroristic threats and acts and booked into the Fulton County jail, Officer John Chafee with Atlanta police said. But it was the other jail in Atlanta that was placed on lockdown and searched after the alleged threat Tuesday afternoon.
Around 4:30 p.m., Sanders allegedly called 911 and told the dispatcher she wanted to blow up the Atlanta City Detention Center, Chafee said. Atlanta police then informed the staff at the jail about the threat, according to Janet Ward, spokeswoman for the Atlanta fire department.
"The detention facility was locked down, and non-essential personnel were evacuated, while APD K-9 units and detention center personnel swept the building," Ward said in an emailed statement. "The sweeps discovered no bombs or related threats."
The threat appeared to have been false and remains under investigation, Ward said.
No information was released about a possible motive. Sanders remained in jail early Wednesday.