A seven-month-old baby boy died in West Point Saturday after a large tree fell on his grandparent's home.
The tree fell as a result of straight line winds after severe thunderstorms plagued the area, according to 11alive.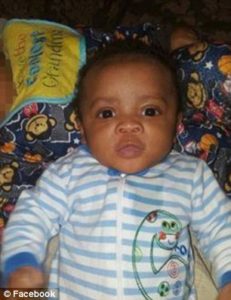 The baby, who was identified as Kyren Davis, was asleep on his grandmother's bed in the town of West Point, which is about 40 miles north of Columbus, when the tree fell at about 5:30 p.m.
The baby's mother, Tynesha Slaughter, came on the scene as the door to the house was blown in. She was about to enter the house, while holding Kyren's twin brother, when the tree fell on the house.
"When I looked up the tree was falling in," Slaughter said. "I tried to go back and get my other baby, but I couldn't because of all the stuff that was falling down.
The tree trapped the other members of the family in the house, including the baby's grandparents and four of their other grandchildren, but they were able to escape with assistance from neighbors.
"They came over to the side window and started to break the window panes out, and he got the window up some, and I got it all the way up," Slaughter told WSBTV. "That's when they started grabbing kids and got us out."
The baby's grandfather said that the wind picked up out of nowhere and that the day was going normally until later in the afternoon.
"I heard tree limbs fall and hit my truck, and then I heard trees blowing off further in the lot," he said.
Kyren's grandmother, Katrina Slaughter, was in the house when the tree fell. She said that the family went into a state of chaos after the fall.
"I looked up and I see the tree coming into the house," Slaughter told WSBTV. "And it fell down on us. Once it hit, we all fell to the ground. She had her baby, holding one of the twins. The other baby was on the bed. We didn't hear him crying or nothing. That's when we were screaming, trying to figure out how we were going to get out because we were trapped where everything had fell on top of us."
Slaughter will now have to try to carry on without her son.
"The thought of him never coming back is just eating me up inside." Slaughter told 11alive.