Car accidents are travesties for everyone involved and they are a common occurrence all over the globe. Unfortunately, the Peach State's number of automotive related deaths are on the rise. The Georgia Department of Transportation's website reported that in 2015, there were 1,427 deaths on Georgia's road system, which is a staggering 22 percent increase compared to 2014's numbers.
As we move into the mid-point for 2016, it seems like vehicular tragedies are still claiming entirely too many lives. Wednesday morning, just before 6 AM, five people met an unfortunate end after a head on collision between two vehicles on I-16 near exit 155 and Pooler Parkway. The collision was between a Ford Mustang and a Kia Soul on Interstate 16 near Savannah.
It marks the third major car accident to happen on I-16 in a little over a year.
According to the Atlanta Journal Constitution, the Georgia State Patrol has identified the victims as 49-year-old Audrey Douglas, 24-year-old Devon Mobley, 62-year-old Wille Braggs, 66-year-old Judy Vincent and 44-year-old Ronnie White.
The incident is still under investigation but so far it is believed that the driver of the Ford Mustang, which contained Douglas, Mobley, and Braggs, failed to maintain their lane, crossed the median and ultimately collided with the Kia Soul.
The AJC also reported that the State Patrol believes that all of the passengers died upon impact.
It's, unfortunately, a story that sounds too familiar for many Georgia families. It was less than two months ago that a similar head-on collision claimed the lives of four UGA students and left one other student in critical condition. Neither alcohol nor drugs had any part in the crash and detectives even ruled out the possibility of speeding.
It's a harsh reminder of how vital it is to remain alert on the road. Even when drivers are not being blatantly careless, it's still possible that something as simple as failing to maintain a lane can be a fatal accident.
In fact, that thought is at the very core of Georgia's #ArriveAlive campaign, which boasts the slogan "Drive Alert. Arrive Alive." According to the Georgia Department of Transportation, more than 60 percent of roadway fatalities in Georgia in 2016 were caused by one or more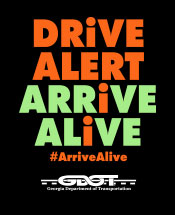 drivers failing to maintain their lane.
By encouraging drivers to remain particularly cautious and vigilant on the road, GDOT and Gov. Nathan Deal are hoping to reverse the current rise in roadway fatalities.
If you're interested in being a part of the campaign, check out the official GDOT website for more information on how you can take a pledge to drive alert and, ultimately, improve safety for you and everyone else sharing Georgia roads.