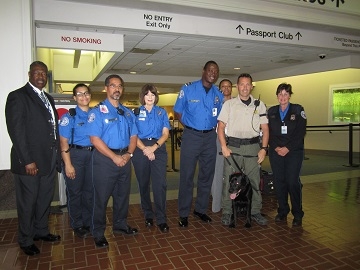 The Chatham County Sheriff's Office is wishing a long and happy retirement to 1 of its bomb-sniffing dogs.
Staff members of the Savannah-Hilton Head International Airport TSA Department honored 8-year K-9 Corporal Aldo at a ceremony Friday.
Aldo is a black lab and is one of the Chatham County Sheriff's Office's explosive K-9's. He has been serving since 2006 and has had over 3,200 searches. Those included security sweeps for VIPs including Presidents Barack Obama, George W. Bush and Bill Clinton, as well as at major sporting events including the Daytona 500, the World Series and two Super Bowls.
A joint injury he suffered to his right front foot over the past few months has forced the Sheriff's Office K-9 Unit to retire Cpl. Aldo in the next couple of weeks.
K-9 Cpl. Aldo will be replaced by the Sheriff's Office newest member of the K-9 Explosive Unit, Cpl. Bella, an 18-month-old Chesapeake retriever.