Chick-fil-A is celebrating its 15th annual Cow Appreciation Day on Tuesday, July 9, 2019. Their restaurants will offer a free entrée to any customer who visits the restaurant dressed as a cow. 
Adult customers who dress in any type of cow attire will be rewarded with a free Chick-fil-A entrée, such as an Original Chicken Sandwich, Grilled Nuggets or breakfast favorite, the Chick-fil-A Chicken Biscuit. Children will receive a free Kid's Meal for dressing in a cow costume. 
The Cow Appreciation Day celebration will last from restaurant opening through 7 p.m. local time (check local individual restaurant listings for hours).
This year's Cow Appreciation Day marks the 24th anniversary of Chick-fil-A's award-winning marketing campaign. In addition to the clever roadside billboards that made them famous, the Eat Mor Chikin Cows make an appearance in Chick-fil-A's merchandise, point-of-purchase materials, promotions and advertising campaigns.
Check below for all entrees eligible for the promotion and a look at the 2019 Cow Appreciation Day shirt.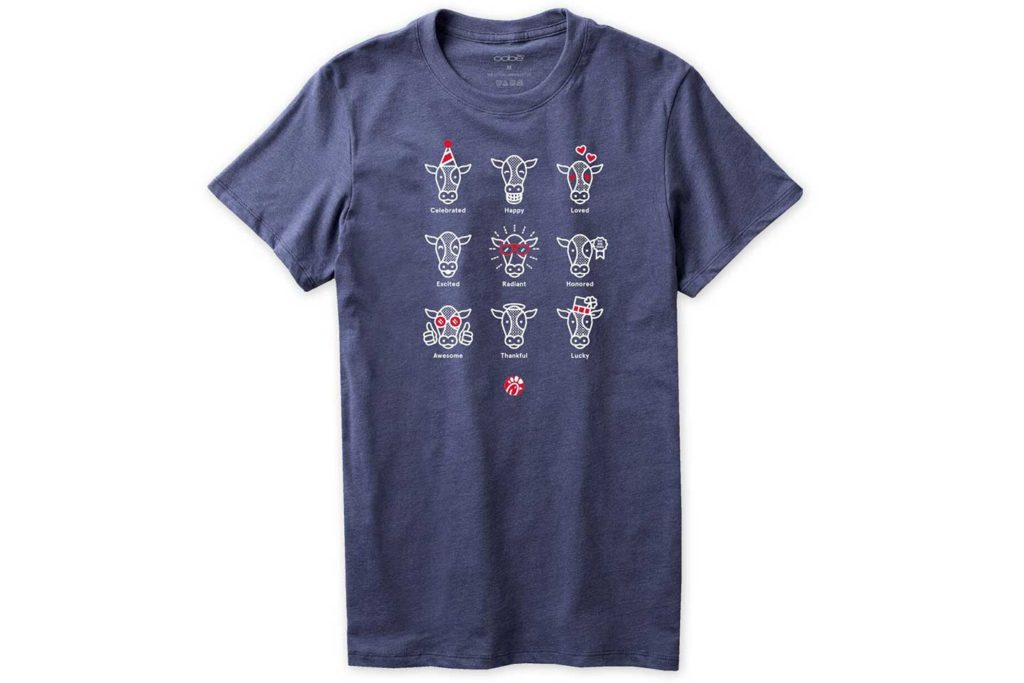 Breakfast Entrée* includes:
Egg White Grill
Chick-fil-A® Chicken Biscuit
Chick-fil-A® Spicy Biscuit (available markets/locations only)
Buttered Biscuit
Sunflower Multigrain Bagel
Chick-n-Minis™ (4 count)
Chicken or Sausage Hash Brown Scramble Bowl
Chicken or Sausage Hash Brown Scramble Burrito
Chicken or Sausage, Egg & Cheese Bagel
Bacon or Sausage, Egg & Cheese Biscuit
Bacon, Egg & Cheese Muffin
Lunch/Dinner Entrée includes:
Chick-fil-A® Chicken Sandwich
Chick-fil-A® Chicken Deluxe Sandwich
Chick-fil-A® Spicy Chicken Sandwich
Chick-fil-A® Spicy Chicken Deluxe Sandwich
Grilled Chicken Sandwich
Grilled Chicken Club Sandwich
Grilled Chicken Cool Wrap®
Chick-fil-A® Nuggets (8 or 12-count)
Chick-fil-A® Grilled Nuggets (8- or 12-count)
Chick-n-Strips™ (3 or 4-count)
Smokehouse BBQ Bacon Sandwich
Kid's Meal:
Chick-n-Strips (1 or 2-count) Kid's Meal
Chick-fil-A® Nuggets (4 or 6-count) Kid's Meal
Grilled Nugget (4 or 6-count) Kid's Meal