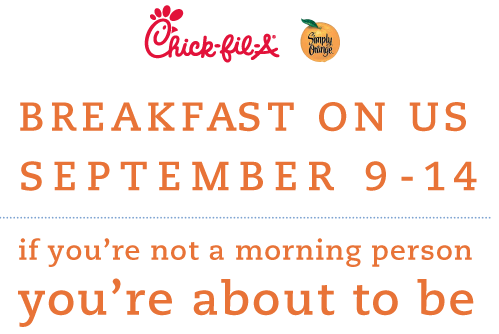 Chick-fil-A is inviting customers to wake up & enjoy a complimentary breakfast entrée item through a new "Breakfast on Us" promotion. Participating Chick-fil-A® restaurants are giving away one of a variety of FREE breakfast entrées to customers who make a reservation online
Customers will have to reserve their breakfast entrée of choice and book the time online with their local Chick-fil-A.
Restaurants are offering a choice of up to 10 breakfast entrees, including: Chick-fil-A Chicken Biscuit; Spicy Chicken Biscuit; Sausage Biscuit; Chick-fil-A Chick-n-Minis(three-count); Chicken, Egg & Cheese Bagel; Bacon, Egg & Cheese Biscuit; Chicken Breakfast Burrito; Sausage Breakfast Burrito; Oatmeal or Yogurt Parfait.
Reservations are accepted through Sept. 13 or until all the slots are filled (some locations have already reached capacity). The offer is limited to one free breakfast entrée per customer during the six-day redemption period.
To make your online reservation, visit www.chick-fil-aforbreakfast.com.