Allow Georgians to make a difference. Voting YES! on Amendment 2 will allow Georgia to provide restorative services and support to child sex victims without raising or creating new taxes on residents.
Each month in Georgia  7,200 adolescent females are sold into the sex trafficking market, with the average age of females put on the sex market being 14. Early voters, and voters on Nov. 8 will have the opportunity to make a positive change in the state by voting yes to Amendment 2, found at the end of the general election ballot.
Atlanta is one of the top sex trafficking destinations in the United States, but the plague is extending to every corner of the state. Local authorities have arrested sex traffickers in more than 100 Georgia counties, and hundreds of children in Georgia are trafficked and exploited at any given time. Cases have included children as young as 9 with over 100 victims exploited each night. Sex trafficking traumatizes these victims, and this results in PTSD comparable to what war veterans suffer. Recovery efforts are costly.

Children's experiences shape the growth of their nervous system, according to the National Center for PTSD. Early trauma as a child harms the nervous system, leading to long-term effects on physical, mental and emotional growth.
The U.S. Department of Justice released a strategy on child exploitation prevention, stating: "Ensuring that all children come of age without being disturbed by sexual trauma or exploitation is more than a criminal justice issue, it is a societal issue.
"Despite efforts to date, the threat of child sexual exploitation remains very real, whether it takes place in the home, on the street, over the Internet, or in a foreign land. Because the sexual abuse and exploitation of children strikes at the very foundation of our society, it will take our entire society to combat this affront to the public welfare."
The approved amendment creates a Safe Harbor fund providing an estimated $2 million annually dedicated solely to the purpose of providing services and support to child sex victims. The money will be distributed by an appointed committee to faith-based organizations, agencies and nonprofits that provide trauma counseling, safe housing, medical treatment and other resources that children need.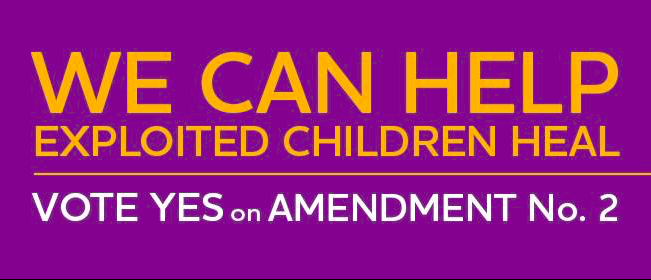 Amendment 2 will read on the general ballot as:
"Shall the Constitution of Georgia be amended to allow additional penalties for criminal cases in which a person is adjudged guilty of keeping a place of prostitution, pimping, pandering, pandering by compulsion, solicitation of sodomy, masturbation for hire, trafficking of persons for sexual servitude, or sexual exploitation of children and to allow assessments on adult entertainment establishments to fund the Safe Harbor for Sexually Exploited Children Fund to pay for care and rehabilitative and social services for individuals in this state who have been or may be sexually exploited."
Convicted sex traffickers will be fined an additional penalty to provide the resources needed to rehabilitate their victims. Adult entertainment industries will also be assessed to fund the Safe Harbor.
Voting yes to pass Amendment 2 will give the children impacted by sex trafficking in the state of Georgia the opportunity to grow into a strong, successful working class adult and parent.
Go to: http://www.vote411.org to find your polling location and make a positive impact in Georgia in the wake of a dysfunctional presidential election.
#VoteYesFor2