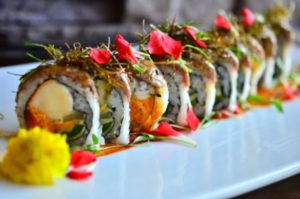 Last June, Jeremy covered the top 9 sushi spots in Atlanta. If I could addend his list, I'd add Eight Sushi Lounge in West Midtown. And I'd place it very, very high.
Helmed by Sushi Samurai and GSU graduate Handy Ho, Eight offers rich and delicious Japanese cuisine in a fresh, contemporary setting. The interior is small enough to feel intimate, yet a patio wraps around the outside to offer ample seating. Sure, the food is insanely tasty and reasonably priced (~$11/roll), but what makes Eight special is the feeling that it's not a business; it's a passion project run by passionate people. In the brutally competitive post-recession restaurant boom, it's rare to find general managers with the genuine poise and pep of Eight's Camelia Gunawan; you can feel her positive energy radiating down to the staff, who provide exceptional service and attention.
Simply put, there's a reason Eight rocks 4.9 stars on Google Reviews. Even if your chopstick game is off-point, you should go there immediately and practice.
Eight Sushi Lounge is located at 930 Howell Mill Rd NW, Atlanta, 30318. They accept reservations online.