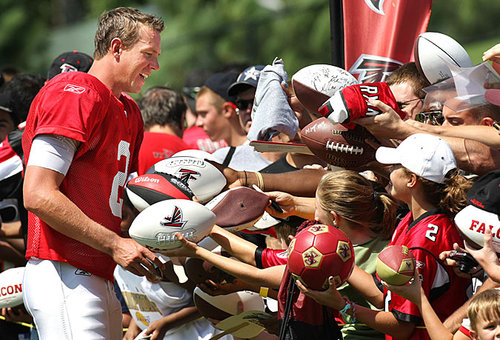 Looking to get an early glimpse at the 2014 edition of the Atlanta Falcons?
There is still time to head up to Xfinity Atlanta Falcons Training Camp.
It's a great chance for fans, particularly kids to get up close and personal with the guys that will be taking to the Georgia Dome field come September to try and make a run at a Super Bowl.
The Falcons make it a great fan experience.
There are various activities for children and some chances to get an autograph or picture with players..
Most of all, it's a chance to see the Dirty Birds be put through their paces as they prepare for the 2014 campaign.
That includes seeing Matt Ryan throw to Julio Jones, the defensive line working on stopping the run, and it's always fun to watch the special teams drills and fielding of punts and kickoffs.
Here are the practices that will be open to fans:
Monday, August 4: 3-5:30 p.m. (Combined practice with Tennessee Titans, open to the public)
Tuesday, August 5: Players' day off, no practice
Wednesday, August 6: 3:30-6:05 p.m. (open to the public)
Thursday, August 7: Practice closed to the public
Friday, August 8: Falcons vs. Dolphins, 7 p.m., Georgia Dome
Saturday, August 9: 4:30-5:45 p.m. (open to the public)
Sunday, August 10: Players' day off, no practice
Monday, August 11: 3:30-5:50 p.m. (open to the public)
Tuesday, August 12: 10 a.m.-12:35 p.m. (open to the public)
This year fans will see many more television cameras and microphones around than usual. HBO has been in Flowery Branch filing this season's "Hard Knocks" that will air leading up to the start of the regular season.
"We are excited about the opportunity to give our fans a behind the scenes look at what it takes to prepare an NFL team for the rigors of a 16-game regular season and beyond," said Falcons owner Arthur Blank.
Blank has always tried to make his organization "fan friendly" and this year appears to be no exception.
He also says fans can expect a "tougher" team in 2014. With all the fights so far in the first 0 days of camp, he may be getting his wish.
Xfinity Falcons Training Camp is located at 4400 Falcon Parkway in Flowery Branch.
Parking is available across the street from Falcons headquarters at the Hog Mountain Sports Complex, located at 4450 Falcon Parkway, Flowery Branch, GA 30542.
For more information regarding changes in practice times or weather delays, please call: 770.965.2752 or visit the Falcons official website at www.atlantafalcons.com.
Fans are allowed to bring the following items to training camp:
Hats
Jackets
Rain gear
Sunglasses
Sunscreen
Binoculars
Blankets
Umbrellas
Lawn chairs
Strollers
Prohibited items include
Weapons of any kind
Alcoholic beverages
Pets (only service animals are allowed)
Camcorders, professional cameras/tripods
Large backpacks, bags and COOLERS
Anything deemed inappropriate by security
As far as cameras go, still photography is allowed, but no audio or video recording of any type, per the Falcons.
Still cameras with lenses under 12" and without flash attachments are permitted for use during all training camps workouts at Flowery Branch. No flash photography of any type will be permitted at any time. No audio or video recording devices are allowed, including camcorders or cellular phones with video capabilities. Videotaping during practice is strictly prohibited.
Just remember is you are heading out to Flowery Branch, have a great time and soak up the atmosphere. Enjoy the jawing, the sweating and the sound of shoulder pads hitting various body parts.
It's an NFL training camp, and it's right up the road.