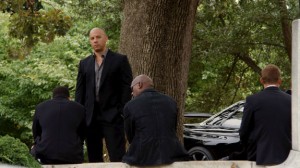 "Fast & Furious 7," now filming in Atlanta, is looking for guys looking for a party. The project starring Vin Diesel, Dwayne "The Rock" Johnson, Paul Walker, Jason Statham et al needs "playboy party" guys of all ethnicities, ages 21 to 45. They're specifically interested in a multicultural feel for this scene so come one, come all.
The sept-equel, also starring Michelle Rodriguez, Lucas Black, Tyrese Gibson and Jordana Brewster along with Atlanta's own Ludacris, has filmed downtown, at the Fort Gillem site south of Atlanta and at the OFS facility in Gwinnett County. I'm not sure where the party is going down. I'll see what I can find out.
Like any good playboy, you will need plenty of time on your hands for this gig. It shoots Nov. 1 and 4-8 and they need you there the entire time. If that sounds like it would fit your jet-setting schedule email photos of your suave self along with your contact information and sizes to Fast7ATL@gmail.com with "Playboy" in the subject line. They'd especially love to see you photographed in a tux.