This weekend Georgia Southern will debut their new white helmets used for the first time in school history for their homecoming game against New Mexico State.
Country artist and beloved Georgia boy, Cole Swindell is responsible (along with the baseball team) for making the logo so popular. Cole Swindell graduated from Georgia Southern in 2009 and represents Georgia Southern every chance he gets! In a article with Nashville Edge he says:
"I went to a small high school in down in south Georgia," he notes. "Terrell Academy is the name of it. I graduated with about 23 people, so if you were the least bit athletic, you kind of had to play everything. So I played baseball, basketball, football, ran track and played golf. Georgia Southern [University] is my team. It's where I went to college. It's the only sport where they have an actual hat, so I just want to show support for my school. Georgia Southern was such a big part of me getting my start."
On the opposite side of the "GS" logo will be the player's number. This may not be as exciting as the new jerseys Georgia Southern wore for homecoming last year but it definitely plays tribute to the Georgian culture and that's more important than anything.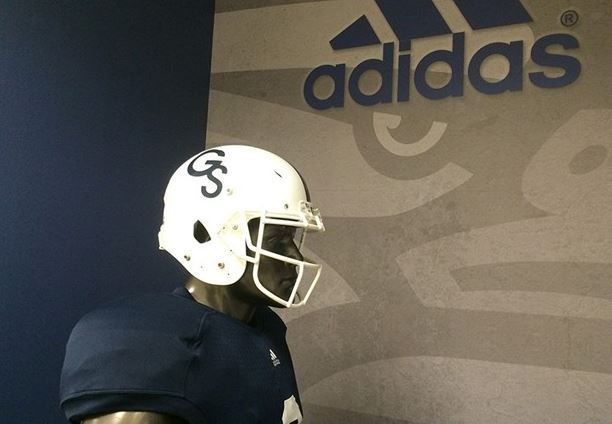 Uniform for this weekend! 🔥 #GATA #Homecoming2k15 pic.twitter.com/rqIAWIg33v

— #GATALifestyle (@gatafblifestyle) October 13, 2015