Atlanta Hawks fans have gotten used to the one-two punch of Jeff Teague and Dennis Schroder at point guard for the past three years, however, some difficult decisions are looming for the Hawks' front office.
Teague and Schroder's contracts will be expiring in 2017, and Atlanta must decide which direction they want to go.
Teague was an All-Star in 2015, but he hasn't matched that performance in 2016. This could be in part due to an ankle injury that he sustained in January and a wrist injury that came in February. Teague told Bleacher Report that he didn't come back 100 percent.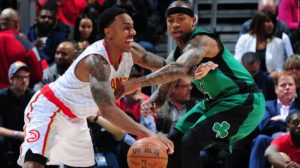 "I tried to come back too soon because we went through a little slump," Teague said. "I was like 70 percent, just trying to get out there and play, and couldn't get right."
The Hawks shopped Teague around in February, but ultimately decided not to trade him even though many teams were interested including Boston, New York and Utah.
Teague will be 28 in June, and many people believe that he has already hit his prime. The Hawks have to decide if they want to sign a good point guard into his thirties who has regressed some in the year since becoming an All Star.
Schroder is another question altogether. He's only 22 and has never been a regular starter for the Hawks. He has shown some moments of brilliance and some of despair.



Schroeder was doing well from December to February while he picked up some slack from an injured Teague. However, in March he faded and then had a bad stretch at the end of the regular season where he only shot 31 percent and turned the ball over a lot. Coach Mike Budenholzer said that Schroeder just needs to be more aggressive and focus on his defense.
"Something we've seen from a lot of our players is they come out with a defensive mindset and have a great impact on the game defensively," Budenholzer said. "He's a very confident young man, and we're confident he'll play well."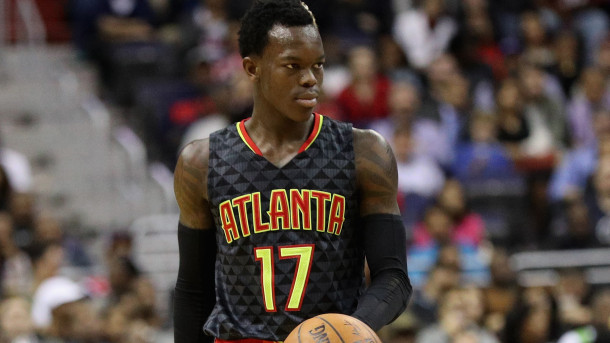 Atlanta's current playoff series with the Celtics is a simplified version of the conflict the Hawks' front office will have soon: a safe but dwindling guard or a sporadic young gun.
In the first two games, Schroder didn't do much, while Teague shined as he was one assist away from averaging a double-double in the two wins. However, in game three, Teague made some costly mistakes down the stretch in the Hawks' comeback effort, while Schroder started slow but shined later in the game, scoring 20 points off the bench as Boston took the win.
While the Hawks will have one more season to assess the Teague vs. Schroder decision, four-time All Star Al Horford will be an unrestricted free agent this summer, and the Hawks will have to fight other teams to resign him.
For now, however, Atlanta will be focusing on beating the Celtics and moving on to the second round of the playoffs. Coach Bud said discipline will be key in the rest of the series.
---
Related:
---
"I think we've got to be mentally smarter, mentally more disciplined," Budenholzer said. "On the road, everything becomes a little harder and you need to be just more together, more disciplined, and I think we'll do that going forward."