Runners showed up and showed out at the Atlanta Track Club and Atlanta Hawks' second annual Fast Break 5K on Saturday April 9th at Philips Arena. Turner Levison, Mr. Peaches, and Madeleine Conti, Miss Peaches, were there to be part of the action.
Turner and Madeleine joined close to 1,500 runners. People of all ages and athletic backgrounds stuck to their commitment to run despite the unfavorable weather Saturday morning. Families, friends, and strangers ran through downtown to send the Hawks off to the 2016 NBA playoffs.
Atlanta Track Club Elite members lead the race. Blake Jorgensen finished first, followed by Christy Cazzola and fellow teammates. Lacey Krout, originally from Preston Ohio (hometown of Napoleon Dynamite), is an Elite member and 2016 Olympic hopeful in training. Croute finished with a time of 17:40. When asked about the event, Croute responded "It was a lot of fun. A really good course, fast race and I feel like as an Atlanta Track Club Team, we did really well."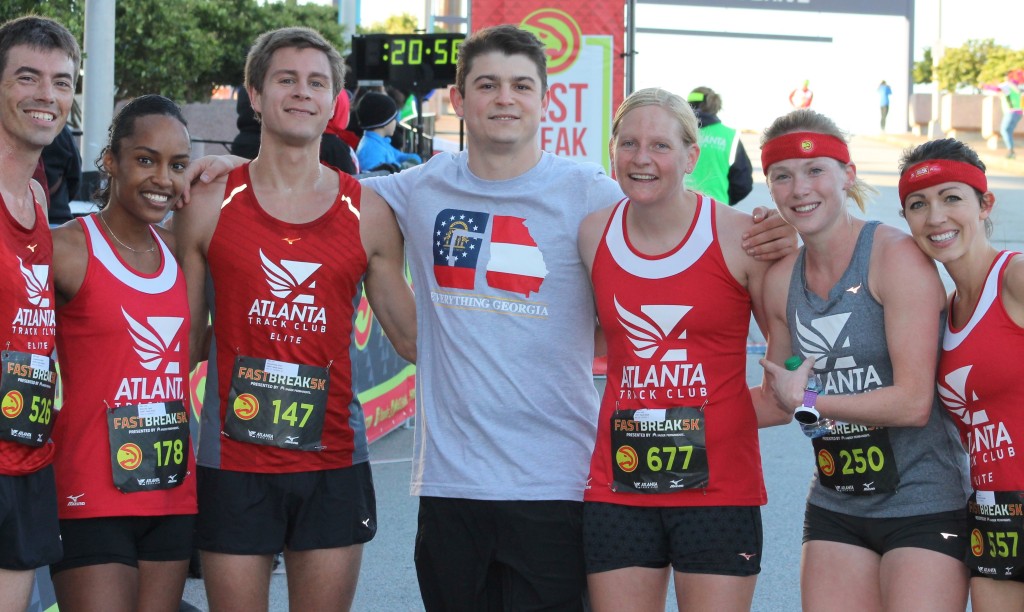 Ronnel Blackmon MC's for the Atlanta Track Club races and kept the energy high throughout the event. The Hawks' cheerleaders also contributed to the fun atmosphere, even dabbing at one point, and one of Atlanta's favorite mascot's Harry the Hawk entertained with his usual antics. The only disappointment is having to wait until next year to do it again!
Join the Atlanta Track Club at their next major running event, the 2016 Braves Country 5K. For more information about the Atlanta Track Club visit www.atlantatrackclub.org.
This slideshow requires JavaScript.