**UPDATE: Dwight Howard will be coming to Atlanta after he reached an agreement with the Hawks for a 3-year contract that will pay out a hefty $70.5 million. 
In the NBA, the offseason can be just as exciting as the regular season. During free agency teams are looking to become championship contenders, players are looking to get paid and college kids are looking to become professionals. The Atlanta Hawks are no exception.
In an offseason that has been characterized by the chase for Kevin Durant and whether or not Lebron James will stay in Cleveland, the Hawks have been making some moves of their own.
Like any other team, Atlanta would love to land Durant, but the Hawks are not on his short list of teams to meet with this offseason, so they have set their sights elsewhere.
On Friday, the Hawks signed Dwight Howard to a three year, $70.5 million dollar contract.
If you follow me on Twitter, which you should, then you know that I have not been too excited about Atlanta pursuing Howard. They could make a great pitch because Howard is from Atlanta, but Howard is not the same player he was in 2007.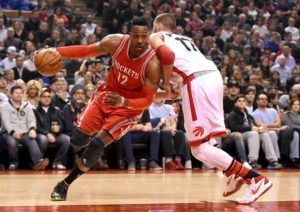 Howard has never won a championship. He came close in 2009, when he led the Magic to the Finals for the first time in 14 years, but 2009 became the apex of his career. In April of 2012, Howard had surgery on his back to repair a herniated disk and later that year was traded to the Los Angeles Lakers. After not clicking with Coach Mark D'Antoni, Howard signed with Houston to try and team up with James Harden, but he has failed to match his success with Orlando where he led the league in total rebounds six times.
The Hawks run the risk of paying a max contract to Howard and getting a first or second round playoff run in return, which has been the norm already for Atlanta. However, the Hawks did rank last in offensive rebounds last year, and they ranked twenty-fourth in total rebounds. Howard is a proven rebounder, but he has fallen off some since his surgery. Also, Howard did lead the league in field-goal percentage last year, but his average shot distance was the second shortest in the league.
The Hawks wanted to pair Howard with all-star Al Horford, who just signed a $113 million deal with Boston, but some reported that Horford did not want to play with Howard.  Horford, who can play down low as well as shoot outside, allowed the second least amount of points off of post-ups last year, while the Rockets (and Howard) allowed the fourth-worst. The Hawks decided to go with a more traditional center in Howard who is a rebounding machine and can play well off of the pick and roll. However, because Howard is more traditional, Atlanta will have to restructure the offense a little into more of a half-court based attack rather than the flowing transition style that we have seen under the first few years of Coach Bud.
Another goal for Atlanta in free agency was to keep fan favorite and much improved small forward, Kent Bazemore, who has gotten much better in his two and a half years with the Hawks. Last Saturday, Bazemore signed a four year, $70 million deal with Atlanta. The energetic Bazemore averaged 11.6 points per game and 5.1 rebounds per game last year.
Also, the Dennis Schroder era will begin in Atlanta after they traded Jeff Teague to the Pacers for the twelfth overall pick of the draft where they drafted Taurean Prince, a small forward out of Baylor who will be looking to get some playing time on the wing. The Hawks also drafted another small forward, DeAndre Bembry, who will compete with Prince for playing time as well as French shooting guard, Isaia Cordinier, who will play with Atlanta in the summer league before returning to play in France for at least one more year.
The Hawks saved some money during the draft in order to retain Horford and Bazemore and to pursue a big name like Howard. While it is unclear if Horford didn't want to play with Howard or if he just wanted more money and a fresh start with a new team, the Hawks probably didn't lose a championship by letting him go. They still have all-star Paul Millsap to play at the four spot, and the up and coming Bazemore who will battle with Kyle Korver for a starting spot for October. If Howard plays in Atlanta like he did in Orlando, where he is the all-time leading scorer, then the Hawks will have a great chance to be an Eastern Conference power and make a run deep into the playoffs. They may need a time machine, but they have a chance.