Quinton Flynn is a voice actor that is memorable, lovable, versatile and immediately recognizable.
To almost anyone who has fallen in love with the Kingdom Hearts franchise or still hails the Metal Gear series as one of the best video game sagas of its time, Flynn's iconic roles and distinct voices are something they are already extremely familiar with.
What fewer of Flynn's fans may realize, however, is that their favorite voice actor may have never been if it weren't for an aspiring rock star and Porky Pig.
It may sound like the punchline of a bad joke but while Flynn's origin story errs on the side of unusual it's far from being fiction.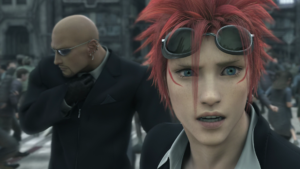 Before Flynn was the voice behind Metal Gear's Raiden, Final Fantasy VII's Reno, Kingdom Hearts' Axel, La Pucelle: Tactics' Croix, or Batman: Arkham Knight's Nightwing, he was first a Kent State University graduate with a cousin who just so happened to have dreams of being a heavy metal rock star.
Flynn hadn't been out of college for a full year before he decided to join his cousin on a road trip to California where his cousin hoped to realize his musical aspirations.
"I said, 'Well, I'll help you move and I could use a vacation,' "Flynn told GA Followers during an interview at Dragon Con. "For me, it turned out to be a permanent vacation."
Flynn was no stranger to voice acting classes at the time. The summer before he left for his California vacation he took a workshop that focused on commercial voice acting. Once he made it from Ohio to the West Coast, however, he found a class that focused specifically on animation. It seemed to be the perfect fit for a recent college grad with a knack for acting and impressions—especially since it would land Flynn in the same room as Porky Pig himself.
"After moving to Los Angeles, California, I took an animation voice over workshop with a guy named Bob Bergen," Flynn explained. "Bob Bergen today is the voice of Porky Pig and he was great. It was my first workshop specifically for voice over acting."
That's when Flynn realize that voice acting was about more than a dramatic reading.
"Here was a guy that was bringing it together and showing me, in terms of acting, how to create a character and how to lift the words off the page and make them real as you're reading them," Flynn continued. "So there's a whole rhythm to it and there's a musicality in addition to the acting."
But if you were to ask Flynn for the real secret to voice acting, you'd be surprised to find that he wouldn't necessarily focus on all the years he spent doing impressions since he was a child or the life-changing mentor he found out in Los Angeles. Instead, you'll hear him remind you of the true potential of a wonderful imagination.
"Part of it is being free," Flynn explained. "I think over the years I've gained more freedom and the capacity to play. As children we played and we never thought about playing. You go, 'Okay we're going to do cops and robbers or cowboys and Indians or Star Wars or doctor and nurse' or whatever it is and you just go. You wouldn't think. You'd just go 'Yes!' You just start playing. You wouldn't go, 'Oh, what's my motivation?' You just imagined it. In your head it's all there."
It's with that mind set that Flynn has managed to create a stunning variety of different voices for different characters but he admits that the two characters that he is perhaps the most well-known for are also the characters whose voices are most like that of his natural speaking voice.
Final Fantasy VII's Reno and Kingdom Hearts' Axel are both voiced by Flynn and at the center of a fan-driven conspiracy theory.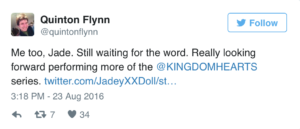 With Flynn lending his vocals to both of the red-headed characters, there are many fans who insist that Reno and Axel are somehow related or perhaps even the same person.
If that is the case, Flynn explains, he isn't in on the plot.
For now, however, fans are eagerly waiting for the official confirmation that Flynn has started recording for Kingdom Hearts 3.
Flynn did mention his own excitement for the franchise's return but for now it seems like we're all still waiting to find out when he will actually be back in the studio to bring Axel to life. That also means, unfortunately, that the rumored April 2017 release date could be wildly optimistic and highly unlikely.