"A hurricane of historic proportions."
"A devastating storm."
"This storm WILL kill you."
These are just a few of the frightening statements that have been made about Hurricane Matthew ever since it started its path towards the United States' southeast coast. Since then Florida, Georgia and South Carolina residents have been warned to get out of Matthew's path.
The storm has already hit speeds of up to 120 mph and meteorologist Brad Nitz said Matthew will arrive just east of St. Augustine by 2 p.m. on Friday and pelt Georgia's coast overnight into Saturday.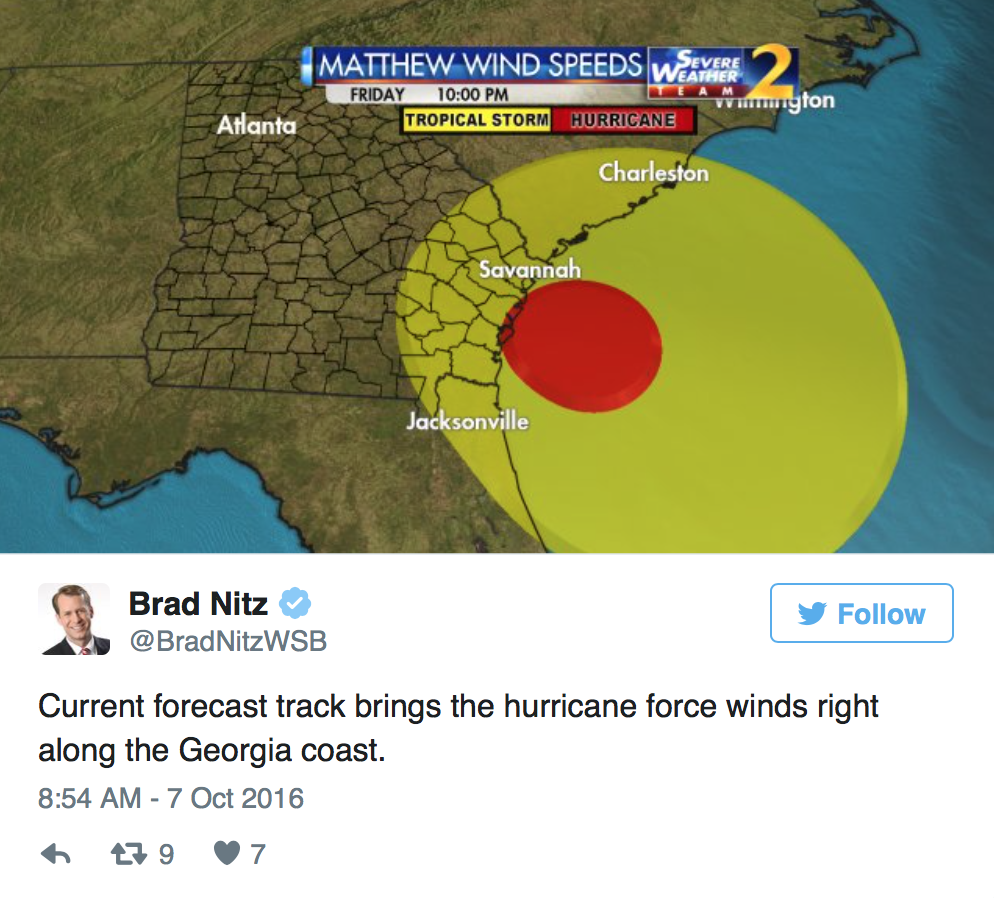 Several predictions are putting Savannah and St. Mary's residents on high alert as they are expected to get the worst of what Matthew has to bring to Georgia.
Fortunately, however, Governor Deal and other state officials acted swiftly and issued voluntary evacuations far before Matthew was predicted to hit the coast.
More than a dozen Georgia counties were placed in a state of emergency and a major closer of I-16 East allowed both sides of the highway to be used to get Georgia residents away from the coast and further inland towards Macon.
Several travelers snapped photos of the traffic that had both sides of the highway gridlocked for hours but many seemed to agree that sitting in bad traffic was a far better option than sitting directly in Matthew's path.
Evacuations have now impacted well over 3 million residents across Florida, Georgia and South Carolina as officials can only hope that damage in the U.S. won't be nearly as devastating as it has been in Haiti.
So far there has been one confirmed death in the U.S. as a result of Matthew's wrath and more than 600,000 have lost power.
"Matthew also claimed its first U.S. victim after the St. Lucie County, Florida, sheriff confirmed a person died overnight when emergency officials could not get to the person after suspending operations because of the storm," ABC News reported. "The St. Lucie Fire Department said the victim, a woman in her late 50s, was suffering from cardiac arrest while wind gusts were at 68 mph. The fire department said crews could not safely respond and the woman died by the time crews arrived."
Residents can only hope that the death toll in the U.S. won't budge from here.
When Matthew swept over the Caribbean island of Haiti, which is still struggling to recover from a devastating earthquake in 2010 and the tragedy of Hurricane Sandy in 2012, it left nothing but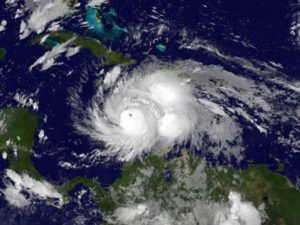 pure chaos and destruction.
Reuters reported that more than 400 people have died in Haiti as a result of Matthew and they are far from reaching a final death toll as violent waters and crumbled buildings are still preventing some loved ones from being found.
This type of aftermath is exactly why President Obama took to Twitter to highlight how serious this storm should be taken.
"Hurricane Matthew is as serious as it gets," the President tweeted. "Listen to local officials, prepare, take care of each other."
This is the message that officials all along the southeast coast have been sending out all week. It's also the type of message that, if heeded, can truly save lives.