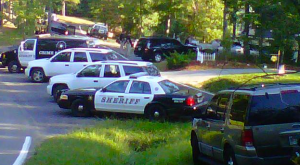 A resident of a North Georgia mountain resort community has been charged with the death of his wife in a Wednesday morning slaying that he initially reported as a home invasion.
The incident occurred around 4 a.m. Wednesday on Eagle Mountain Drive in the gated Coosawattee River Resort.
According to Gilmer County sheriff's Lt. Frank Copeland, Donald Bossa, 76, has confessed to killing his 67-year-old wife, Barbara, at the couple's two-story log home. Donald Bossa initially told authorities that his wife was killed during a home invasion.
"He reported that two people had entered his residence and tied him up and attacked them and stole money," Copeland said. "As the investigation progressed, the evidence just didn't point in the direction of a home invasion."
"Later on this morning, an investigator from our agency and an agent from the GBI interviewed Mr. Bossa, and he confessed to having killed his wife," Copeland said.
An autopsy was planned to determine how Barbara Bossa died.
According to the resort's website, the 5,000-acre gated vacation community consists of more than 7,000 privately owned lots along the Coosawattee River, about 75 miles north of Atlanta.
Credit Mike Morris