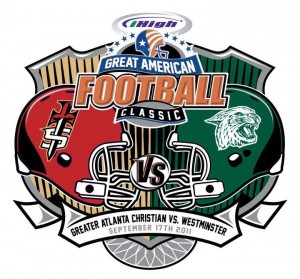 The Great American Football Classic is this Weekend (9/16 – 9/17) at the Georgia Dome!
The six games of this inaugural edition of the Great American Football Classic bring with them the rich tradition of great high school football that is Georgia. They mark the beginning of a celebration we hope to see continue for many years to come as the grand sport of football does what it has always done… Spark emotion, rally the team, strengthen our communities and create memories for a lifetime.
Enjoy the Games!
You can relive all this weekend's action in video and photos at www.GAFClassic.com Via The Great American Football Classic
(Via The Great American Football Classic)
TICKET INFORMATION
Advance Tickets are available at all participating schools and can be purchased there for $12 each.
Game Day (Sep 16 & 17) Tickets are available at the Georgia Dome ticket office for $15 each.
You can also order tickets online at ticketmaster.com by selecting the appropriate date link below (ticketmaster fees apply)
THE GAME SCHEDULE
Friday, Sept. 16
5:30 p.m. – Lovejoy vs. Morrow
8:30 p.m. – Carver vs. LaGrange
Saturday, Sept. 17
11:00 a.m. – Creekside vs. Mt. Zion
2:00 p.m. – Drew vs. Sandy Creek
5:00 p.m. – Westminster vs. Greater Atlanta Christian
8:00 p.m. – Central Gwinnett vs. South Gwinnett