It's the last week in July, it's hot, and there is a fast, but high-bouncing stadium tennis court set up at Atlantic Station adjacent to the Downtown Connector.
Where else would John Isner be?
"It's always a pleasure to play in Georgia and to compete at the BB&T Atlanta Open where I feel at home and have had so much success," stated the former Georgia Bulldog, Isner. "I can't wait to get back on court at the fabulous Atlantic Station."
Isner, happens to have the best record in BB&T Atlanta Open history with two trophies and two final appearances, will return to the ATP World Tour 250 event this July, as will his legions of fans.
Last year, the 6′ 10" Isner defeated Dudi Sela of Israel in straight sets.
Isner, who recently turned 30, keeps improving his impressive tennis resume.
A native of Greensboro, N.C., Isner reached a career high of No. 9 in the world in 2012 and has been the highest-ranked American male for nearly three years. Besides his Atlanta titles, he has seven other ATP World Tour crowns, with two each in Winston-Salem, Newport and Auckland. Additionally, he has reached nine other finals, including the ATP World Tour Masters 1000 tournaments in Cincinnati and Indian Wells. In doubles, he captured three titles, including the 2011 ATP World Tour Masters 1000 Rome.
He is also a former NCAA team and doubles champion while attending the University of Georgia.
Once again, Eddie Gonzalez, Chief Business Officer and Tournament Director for BB&T Atlanta Open, is thrilled to have Isner back in town.
"It wouldn't seem like the BB&T Atlanta Open without John Isner, one of its top achievers, back in the draw. We are so proud to have our two-time champion and a crowd favorite who is beloved for his quality of play and willingness to sign autographs and interact with fans."
The BB&T Atlanta Open, which is the first event in the Emirates Airline US Open Series, also recently announced the Bryan brothers, arguably the greatest men's doubles team in tennis history, has committed to play here in 2015. Former world No. 1 and 2003 US Open champion Andy Roddick has also agreed to play an exhibition match. Roddick won the BB&T Atlanta Open in 2012, his last ATP Tour singles title.
For tournament or ticket information, visit www.bbtatlantaopen.com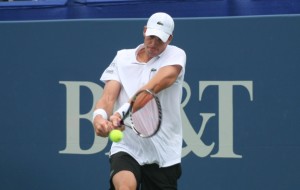 .