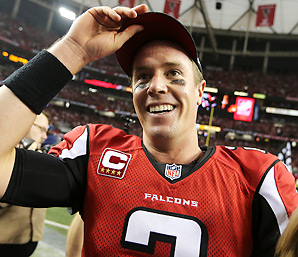 In the coming days, Falcons quarterback Matt Ryan is set to join the National Football League's $100 million club. He signed a six-year, $72 million contract that included $34.75 million in guarantees his rookie year.
The Falcons want to lock up Ryan for the future. He's guided the team to five straight winning seasons and two NFC South titles. General manager Thomas Dimitroff has said they want to do Ryan's deal in a creative manner that will not severely hamper the team's long-term salary-cap situation.
New Orleans Saints quarterback Drew Brees' five-year, $100-million contract and Baltimore quarterback Joe Flacco's six-year, $120-million deal as comparable deals.
Tim Ryan projected that Matt Ryan's deal would be for six years, $100 million with $32 to $35 million guaranteed.
Kirwan projected that the deal would be five years, $100 million with $35 million guaranteed.
"He will be one of the guys to crack the $20 (million a year) mark," Kirwan said. "That's the market."
By D. Orlando Ledbetter
[socialpoll id="7927″]