On New Years Day 2015, Savannah resident and SCAD student Matthew Ajibade was arrested after police were called on a domestic incident. According to the police report, Ajibade was holding his girlfriend tightly, her face was bruised and bleeding upon arrival. Police asked Matthew Ajibade to release his girlfriend in which he refused and Savannah-Chatnam police officers wrestled Matthew to the ground where he'd continue to resist. After his arrest, his girlfriend provided police officers with Divalproex, a drug to help prevent seizures normally for people with bi-polar disorders. Ajibade was diagnosed with bi-polar disorder 3 years ago.
Upon arriving at jail around 6:40pm, Matthew Ajibade was placed in an isolation cell because he became "combative" with the police. During a routine check police report Matthew Ajibade was found unresponsive in his cell still in his restraint chair around 1:38am.
Chatham County coroner has ruled the death a homicide citing blunt force trauma. For over 10 months, police and prosecutors have concealed the video evidence of his death not only from the public, but from Ajibade's closest friends and family members. In a video provided last week, police officers are seen kicking and punching Ajibade in the face and head before restraining him.
In May, nine Chatham County sheriff's deputies were fired in result of the GBI's investigation.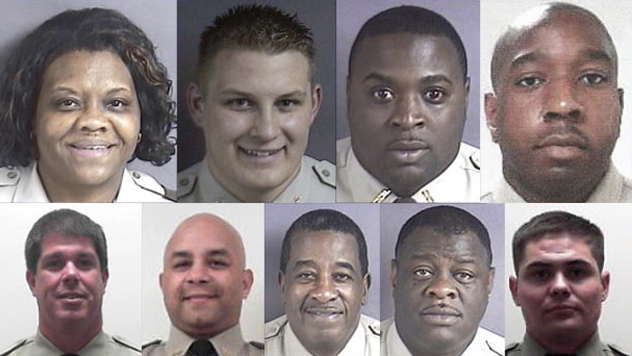 Here's the bad part. This week, NBC News obtained footage from a body camera that automatically cuts on when a gun is drawn. In the video below you can see that Ajibade had been stripped of his clothes. While the audio is muffled you can see a red light from a taser pointing towards Ajibade's genitals, towards the end you can hear the taser in use and screams from Matthew Ajibade.
No officers have been charged with anything yet, but the footage below suggest that Matthew was tortured before his death. Goldie Taylor highlights a great point:
The public would never have known about the horrors Ajibade endured. But for a video, there would likely have been no indictment, no trial, and Ajibade would be just another social media hashtag. The nine county deputies who participated in and/or lied about the circumstances surrounding his death would still be on the job.