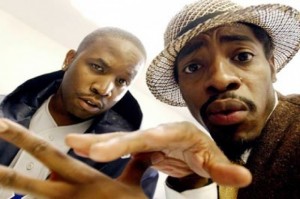 For EVA EVA!?
It's been 7 years since Andre 3000 and Big Boi have collaborated on a track, and even longer since they have performed on a stage together. Rumor has it that they are in the talks of reuniting for the California festival Coachella in April 2014. Billboard added to the speculation,
"One source tells Billboard that there have definitely been "some conversations" about Outkast reuniting, while another says it is "all systems go" for Big Boi and André 3000 to end their hiatus next year. A rep for Outkast did not comment for this story, while reps for their current label home, Epic, as well as Coachella organizer Goldenvoice, did not respond to request for comment at press time."
Coachella runs over 2 weekends in April, so if this were to be true, we may not know for sure until probably January. Stay on your toes, y'all.