If you thought it was good before, then you are in for even more tricks and treats, as the Owl-O-Ween Hot Air Balloon Festival returns for its fourth year, promising to bring back familiar favorites and introduce new attractions slated to thrill festival goers of all ages.
Booking and Festival Manager, Necie Brown, is excited to introduce some new acts and optical elements to this already highly visual event. "The beautiful thing about Owl-O-Ween is its breathtaking uniqueness. There is truly nothing else like it. Not only does this festival feature performances, occurring simultaneously across multiple vignettes, but guests will be constantly entertained by more than 100 roving performers, many of which have local Atlanta roots." 
The balloons come to life October 21st and 22nd, and will ring in yet another crisp and cozy fall season, to the Kennesaw area.  Roaming performers, evening balloon glows, tethered balloon rides, some of Atlanta's top food vendors, artists alley, beer garden, and trick-or-treating at over 20 hot air balloons, are just a few of the returning fan favorites.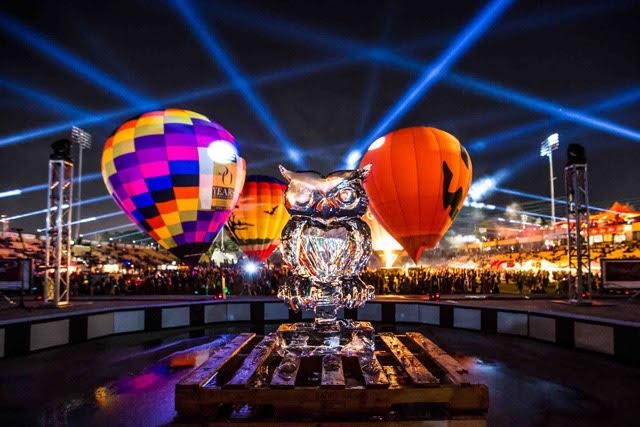 The biggest resurrection to this year's 2-day mega fall festival will be the return of the costume contest. The Kennesaw State University Sports and Entertainment Park Assistant Director, Maggie Gendernalik commented that the competition will add another layer of excitement to the already elaborate festivities.
"Going into the planning for this year's festival, we knew immediately, that if we are going to bring back the costume contest, we are going to have to make it bigger and better that it has ever been." She adds, "this time around is going to be very interactive, as we really want to make the patrons feel like they are a part of the event. We are encouraging everyone to join in on the fun!"
Festival Co-Producer/Promoter, Andrew Miller, says "Whether you come out with the entire family, or partake in a spectacular date night, you will have a great time at Atlanta's marquee event….Owl-O-Ween!  Since its inception in 2013, The Owl-O-Ween Hot Air Balloon Festival has become an annual pilgrimage for tens of thousands of festivalgoers from across the region. Festival attendees bring their adventurous spirits, and experience a full range of amazing sights, sounds, and culinary treats!  This one-of-a-kind hot air balloon festival is truly fun for all ages!"
Visit Owl-O-Ween.com for more information.